Whether you are a bullet journal newbie or a seasoned bujo planner, these bujo ideas for December monthly logs will spark your creativity. I love how creative all these designs are and can't wait to see your recreations.
While many of these ideas are Christmas bullet journal themed, some of these bullet journal monthly log ideas also feature winter designs that you can carry into January or bullet journal tips that can apply across seasons. You'll find unique title and font layouts in these examples, as well as a combination of simple and artist monthly dashboard ideas filled with bujo doodles.
Give them a try and pin your favorites to your bullet journal board on Pinterest to find them again when you do your next monthly spread.
1. Christmas Countdown Dutch Door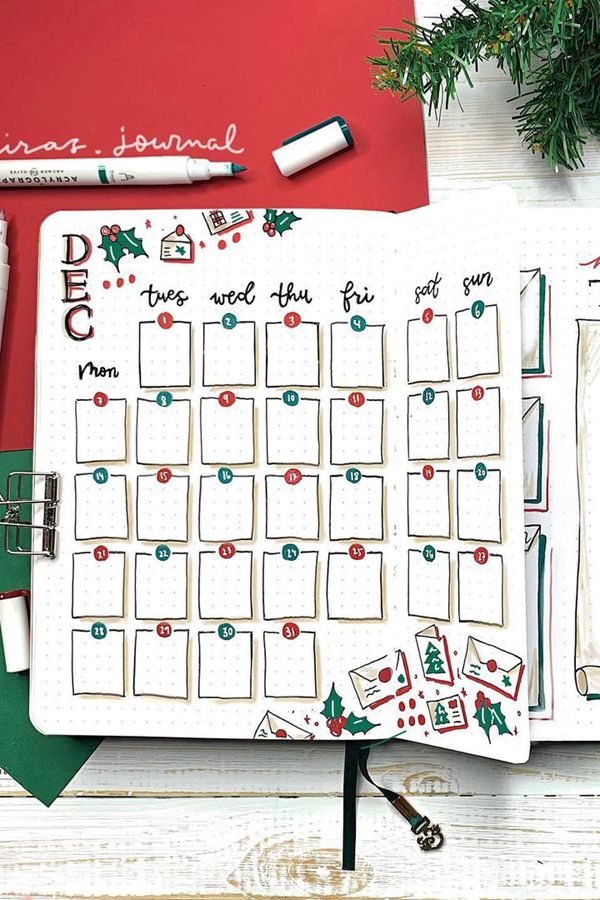 Photo credit: miras.journal
The Dutch door is a popular bullet journal technique and I love how Mira from Mira's Journal uses it for a mini Christmas countdown. She uses red and green accents in the monthly spread, but you can also change the colors to gold and use it for important lists in other months. Her monthly log is made complete with doodles of holly, letters for Santa, and a scroll.
2. Winter Greens December Bullet Journal
Photo credit: bulletsandconfetti
A delicate and simple greenery design is perfect for December, especially when used with cool tone colors. This monthly calendar page also includes the week of the year at the side and a definition of what December means to her. You can use a simple design like this to show off your skills in delicate floral and plant drawings.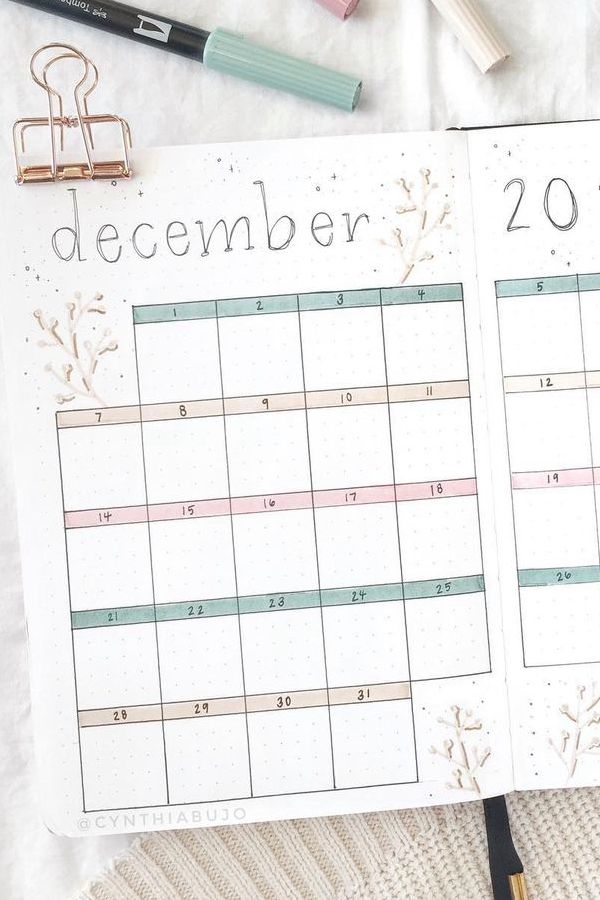 Photo credit: cynthiabujo
Soft pastel colors are a pleasant surprise in December bullet journals. Cynthia created one with a drawing of a Volkswagen Beetle car. These soft colors and cream-colored leaves added a cozy vibe without using traditional December items.
4. Paper Bag Accents in Bullet Journal Crafts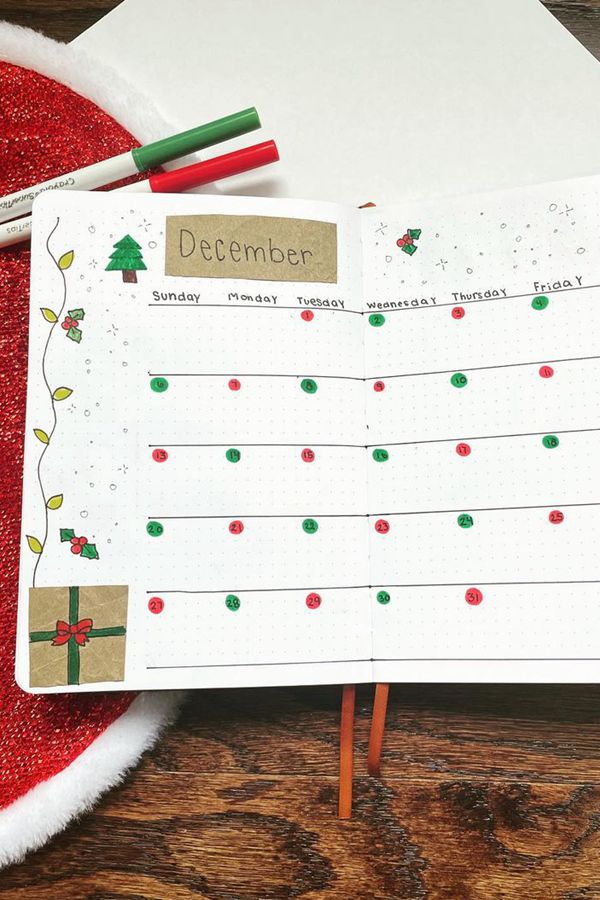 Photo credit: bujowithnatalie_
Brown paper bags are great accent pieces for journal headers and sections like to-do lists or gift idea pages. They are easy to paste into the journal and add great texture to your pages. For extra effect, add in gift wrapping paper or add the paper bag pieces to your journal with washi tape.
5. Candy Cane Doodle Monthly Spread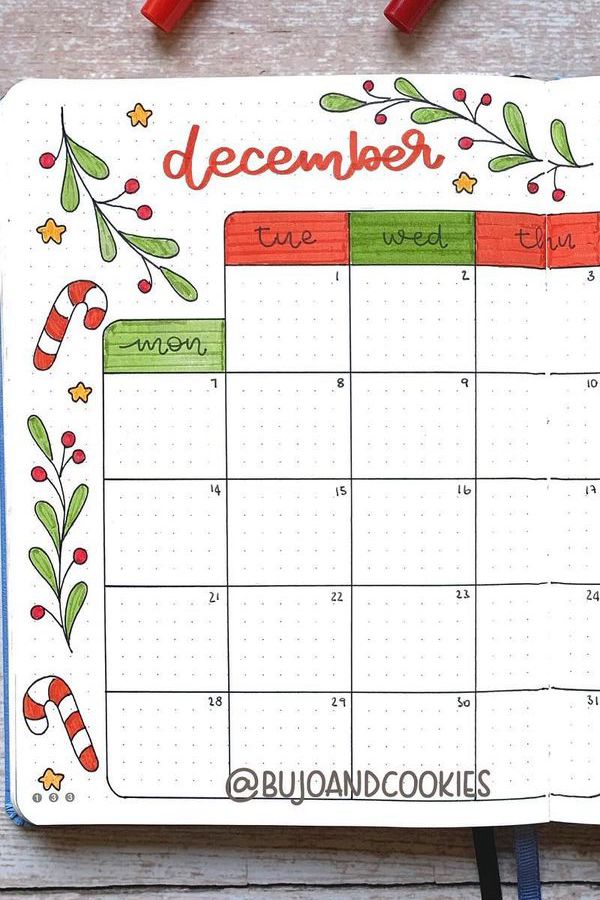 Photo credit: bujoandcookies
How adorable is this December spread featuring doodles of candy canes and holly berries? These are easy doodle designs, even for bullet journal planners that aren't as art focused. Want to try something a little different? Make your candy cane doodles pink and blue for a more playful bujo design.
6. Snow Globe Bullet Journal Design Idea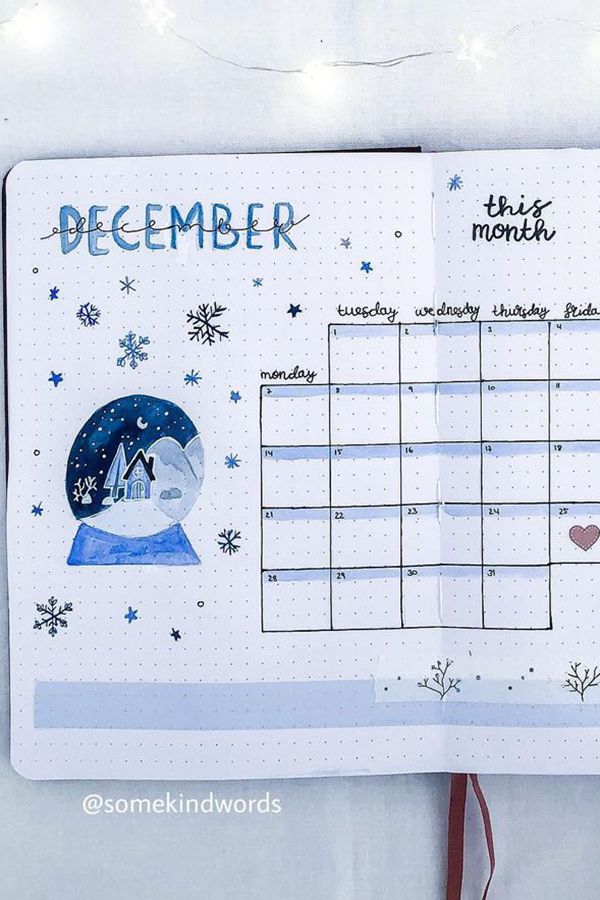 Photo credit: somekindwords_
Just as each snowflake is unique, so is your bullet journal. Snow globes are a fun addition to any bujo spread and can include any kind of scene in them. For an extra twist, consider cutting a photo into a circle and use a white pen to add the globe (and snow) within it.
7. Holly Jolly December Bujo Spread
Photo credit: zainabullet
Create an earthy holiday spread with deep greens and browns like this one from Zainab. She used washi tape to create simple decorations to her monthly dashboard and recorded her goals with white pen on brown. White pens don't only look good in black paper journals, they also stand out on other colors like deep blue, green, and brown.
This design also has a habit tracker, which helps you stay accountable to the habits that will help you feel your best as we get closer to 2021.
8. The Grinch Bullet Journal Spread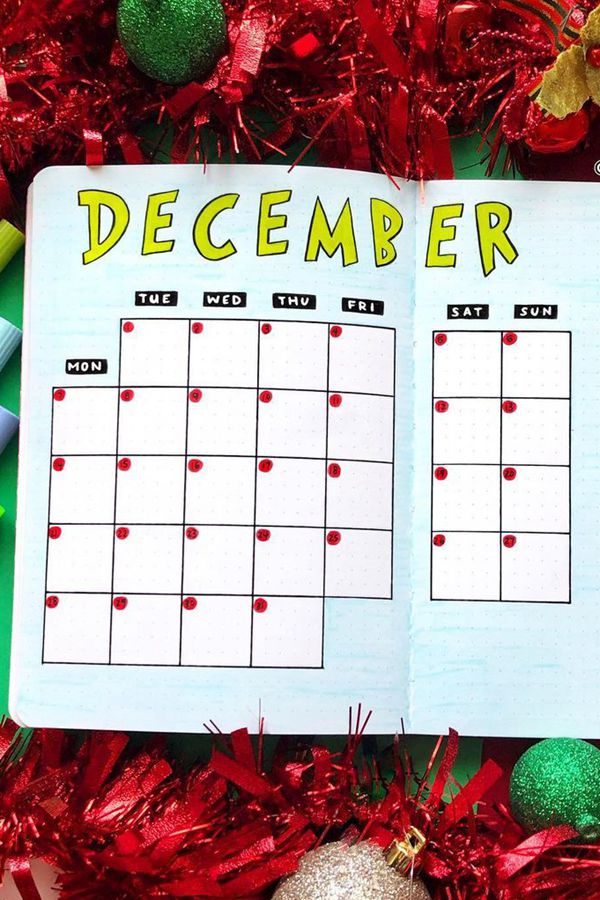 Photo credit: steph.bujo
It's the Grinch! This creative December monthly spread features Christmas ornaments with character drawings from the Grinch. The calendar itself is simple enough, but the drawings will take more time so draw with a patient hand. You are sure to get a lot of engagement with a photo of a spread like this on Instagram, especially if you add in your favorite Grinch Who Stole Christmas quote.
9. Shadow Lettering & Icy Grey Spread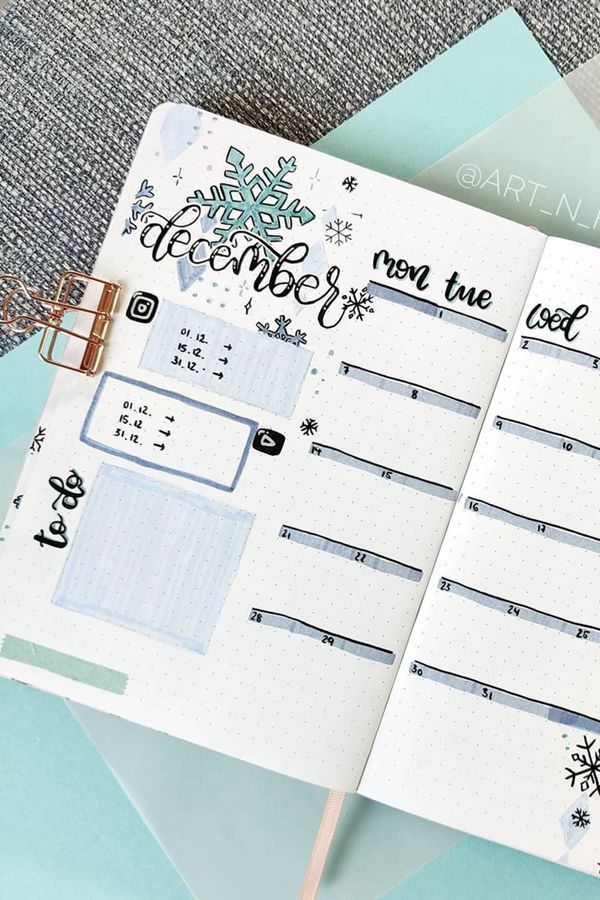 Photo credit: art_n_foxes
What really stands out about this bullet journal December spread, other than the amazing snowflakes, is the shadow behind the day of the week titles. This is an easy letting hack to copy, so zoom in and give it a try. All you need is two markers, a black and a grey or lavender.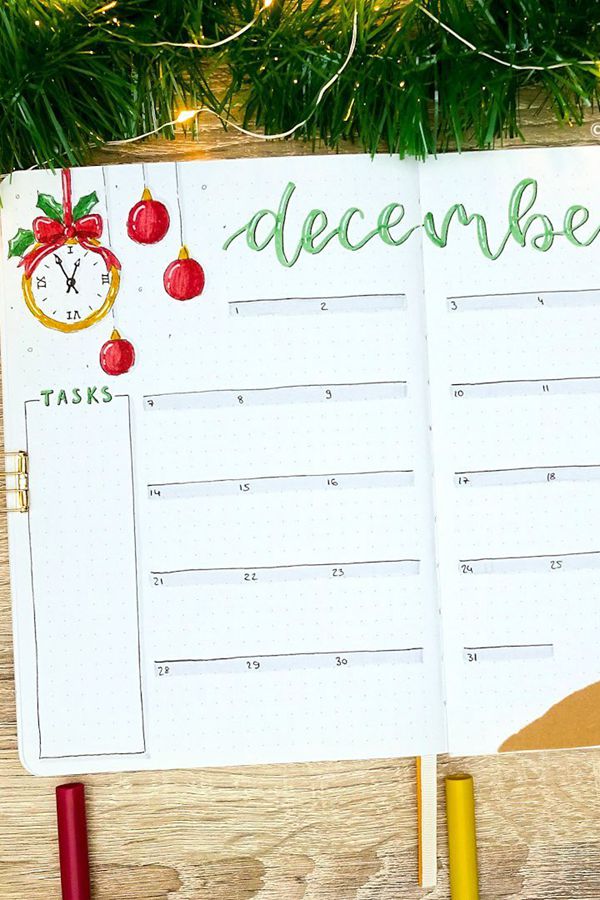 Photo credit: notikjournal
Here we have a simple December calendar spread that uses freehand lines instead of a ruler. The multidimensional colors in the art brings a vibrant life to the spread, making it feel alive.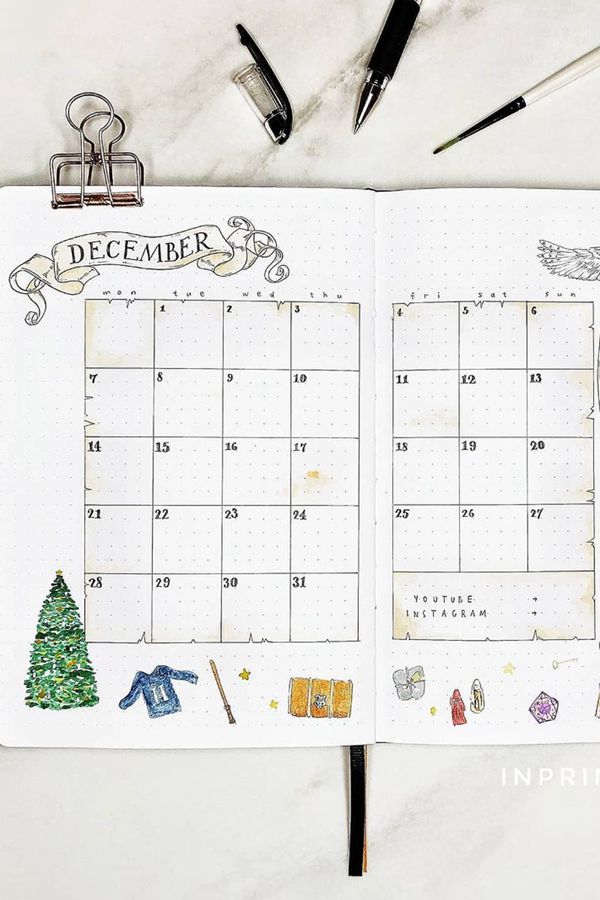 Photo credit: inprint.xyz
Thank you Aska for this adorable Harry Potter spread, featuring Hedwig the snowy owl holding your to-do list. There are doodles of a Weasley H sweater, wand, and even Bertie Bott's Every Flavour Beans. The detail is stunning in this design, with discoloration on the paper to show age.
12. Detailed Snowflake December Monthly Log Idea
Photo credit: bulletwithe
Snowflakes are a very common idea for December monthly logs, but this one stands out in how detailed each snowflake is. None of the larger snowflakes are the same, just like in real life.
13. Half Page Monthly with Snowy Calendar
Photo credit: pagesbyamy
This ½ page spread from Amy has little snow gatherings as if each square of the calendar were a ledge from a window. What a surprising detail! The little house in the corner would be great to have in each spread, with the outside of the house changing with the season.
14. Gingerbread House Bullet Journal Spread
Photo credit: annajournals_
This gingerbread bullet journal spread is adorable. They also used the brown paper bag trick, like in idea # 4. Using the bag, a white pen, and created a scene like this that uses texture in your bullet journal makes your December monthly log even more special for the holidays.
Photo credit: studywmegan
Megan revamped an old monthly plan she did with clouds for her December spread. Redoing an older spread with a fresh eye is a fun and fresh way to end the year. What spread did you like the most from 2020? What would you do differently now?
16. Home for Christmas Mailbox Bujo Idea
Photo credit: rosieeld
"All roads lead to home" in this adorable snowy theme, featuring a mailbox covered in snow and letters for the holiday season. The plaid washi tape as a special cozy touch.
Photo credit: bujo.by.lo
Unlike our doodle candy canes, this December candy cane theme is a little more realistic, longer, and holds the traditional red color. That same red is used in the art deco lettering, with long capital letters and colored in accents.
Photo credit: metro_boulot_bujo
This design has so much life and emotion behind it. Look at these baby snowmen! They remind me of the snowman creatures in Frozen. These snowmen doodles are reaching to mail a letter to santa. Letters and mail has been a common theme for the December threads and I am here for it!
19. Twinkle Lights December Thread
Photo credit: veronicajournals
Christmas lights can be such a charming look for your December monthly log and it's one of our favorite bullet journal ideas. You can create Christmas twinkle lights in all colors, like cool tone blues, or go with easy green and red. This user enhanced their monthly log by adding matching stickers from Together with KX.
20. Vintage Handmade Packaging Art
Photo credit: ihggs
There is something very quaint about this bullet journal design with sprigs of greenery and lemon on top of paper wrapped packages. The muted tones add a vintage tone that works for all seasons. This spread would be fun in February as well, with rose petals along the page.
Photo credit: tritopus_
These simple silhouette trees have a shaded color background with a pen silhouette in black or white. There is dimension between the trees with how they are layered together on the page. This doodle idea is perfect for many seasons. These are winter doodles because of their tone, but switching up the colors can make them have a Fall vibe.
22. Wreath Framed Expense List
Photo credit: littleolivebujo
During the holiday season it's important to keep track of your expenses, this wreath design makes it fun to use this money tracker on the first page of your monthly log. Mixing in the garland between the accent presents is a fun touch.
23. Cooking Themed Monthly Log Ideas
Photo credit: mylartsy
This one looks like it should be in a catalog! I'm definitely pinning it to try myself. This is one of my favorite bujo ideas for December because it has a homey feel with rolling pins, eggs, tablecloth, and Christmas cookies. It is almost as if the calendar on top were her cooking book. How darling!
24. Cozy Home Theme with Stickers
Photo credit: withkx
Most of the bullet journal monthly calendar spreads we've shared in this list are all hand-drawn. This spread uses a simple design that is enhanced with stunning stickers from Together with KX. This monthly dashboard features the phrase "Stay Home Stay Safe" which adds to the stickers homey feel. Plant stickers are my favorite. What do you think?
Photo credit: beladisegna
This is one of our most unique bujo ideas for December. I have never seen someone decorate the Monday – Sunday headers within a box like this, while keeping the rest of the spread simple and neat. I love how this stands out and can't wait to try it in other months too. This bujo planner added tiny candy canes and Christmas ornaments, but it could also be done with little stars, flowers, tiny present boxes, and more.
We have just walked through 25 unique bullet journal designs for bujo fans of all skill sets. These bullet journal monthly log ideas will help you not only in December 2020, but for months to come as many of these designs can apply to December 2021 or other Winter and Fall months. Whether you decide to go with an icicle or snowflake bujo spread or one of the Christmas specific ones, make sure to snap a photo and let us know how you made it unique to you.
Don't forget to check out our other articles and bujo roundups. Which one was your favorite? Comment below!