Autumn is one of the most colourful seasons of the year, with the golden October right in the middle. Even Ella Fitzgerald and Louis Armstrong sang about Autumn in New York, slightly jazzing up the mood and warming the hearts. Or maybe Girl in Red gets you lit up with her song We Fell in Love in October. What's not to love about this season and especially October? The trees are painted in all sorts of colours, the weather is not too cold yet and being outdoors is still enjoyable. That's exactly what I like to see in my October monthly spreads.
1. The Sweet Oranges and Ochres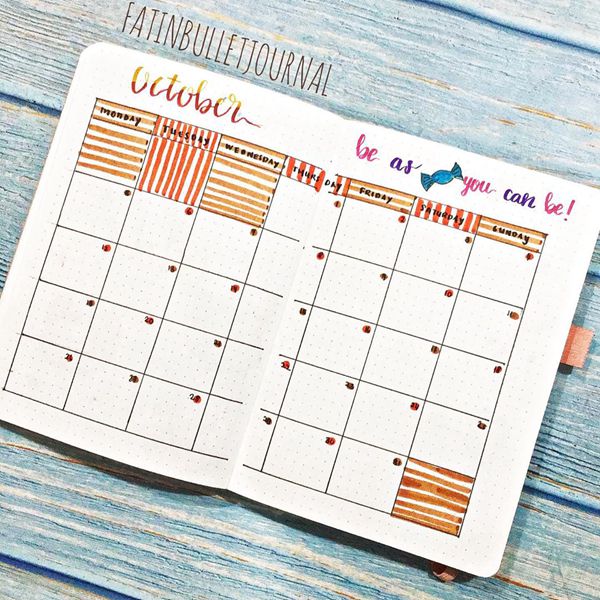 Photo credit: Fatinbulletjournal
I like this simple spread of some wonderful earthly colours, that just make you think about the fall straight away. Sometimes simplicity is the best, so that it can be brightened up with some calligraphy, stamps or just left clear and unembellished.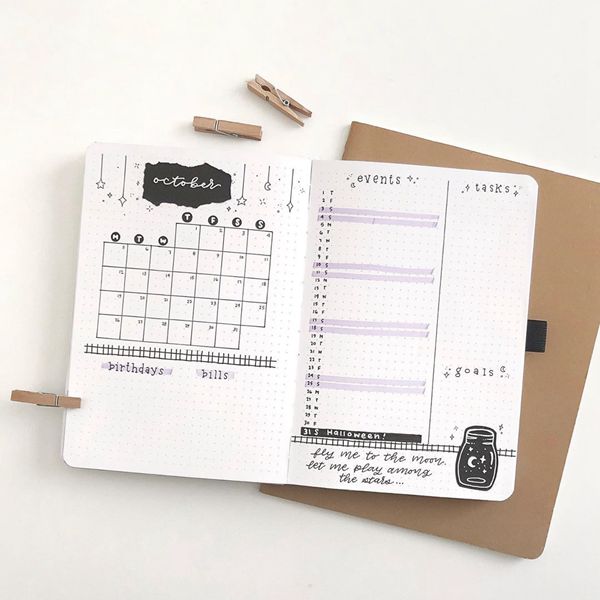 Photo credit: Mondaymorningdesign
This also, pretty simplistic spread is very dreamy, indeed. There are months that you already know won't need the whole two pages and the space can be used for inspiring quotes, tasks, goals, monthly budgeting or those who are important to be celebrated.
3. Sleepy Foxy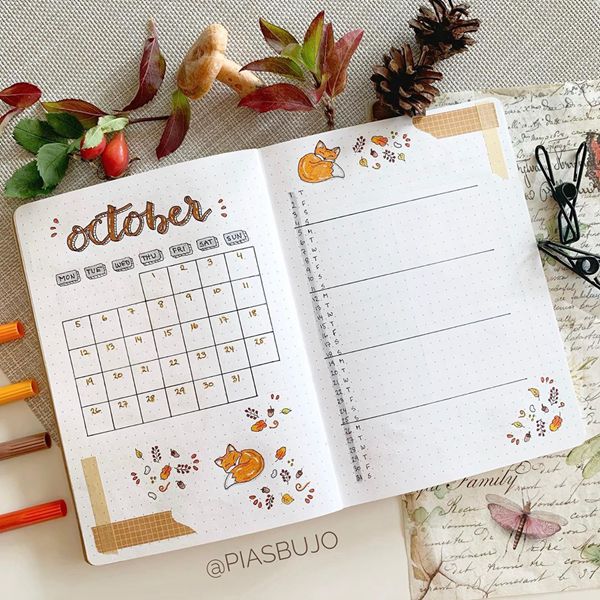 Photo credit: piasbujo
Animals are always a favourite one for me and foxes are very cute and cuddly. It's always wonderful to see that the image of something furry, cuddly and so adorable can make the page and the whole month very warm. So appropriate for the October month.
4. Braking Away from the Expected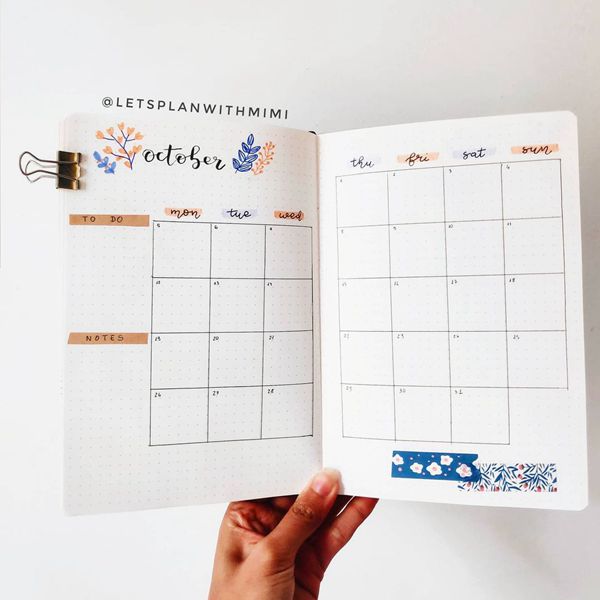 Photo credit: letsplanwithmimi
This monthly spread is very sweet and I love both the simplicity that has been maintained, as well as a hint of October colours. The best is that it makes me want to dream and forget the cold outdoors. Besides, the use of patterned sellotape makes me want to start painting.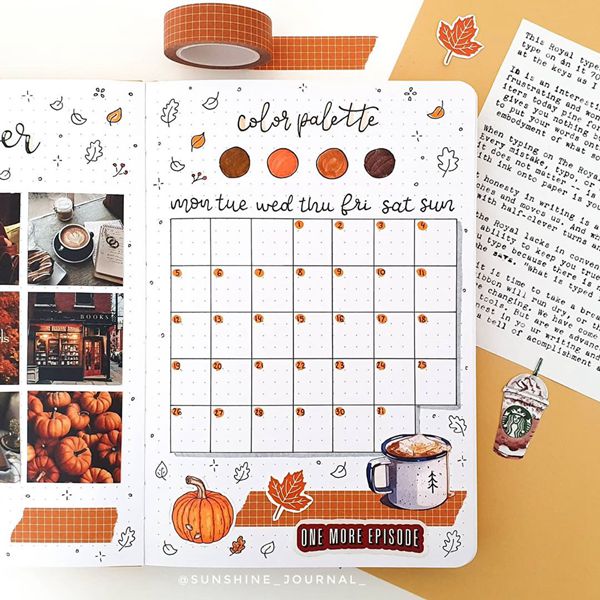 Photo credit: sunshine_journal_
So, you have those old magazines at home that you were planning to throw out but didn't' think get to yet? Know the feeling? How about cutting out some delicious, season themed and colour matching images to set the mood for the upcoming month? I love the journaling feel it gives.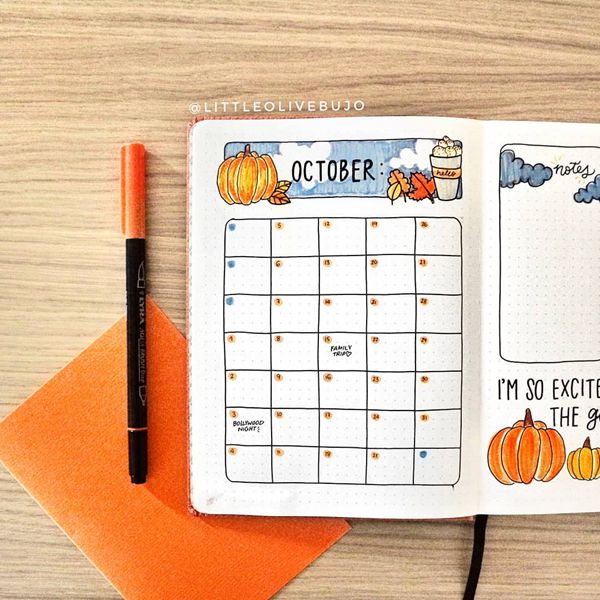 Photo credit: littleolivebujo
Who said that all the pages, lines and spreads have to be perfectly ruled with a ruler and square. Just let your hand move along the page, whilst creating the free flowing feel of freedom and air. Loving also the idea of not colouring in all the space and staying away from the lines.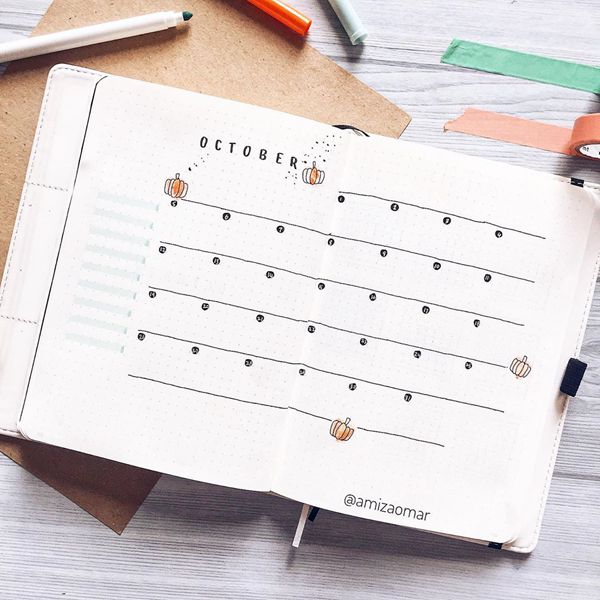 Photo credit: amizaomar
Here is yet another simple, clear and free flowing October spread. Pumpkins are the theme this month, so, why not make them the staples of the page and leave the rest to be filled in from this month's adventures?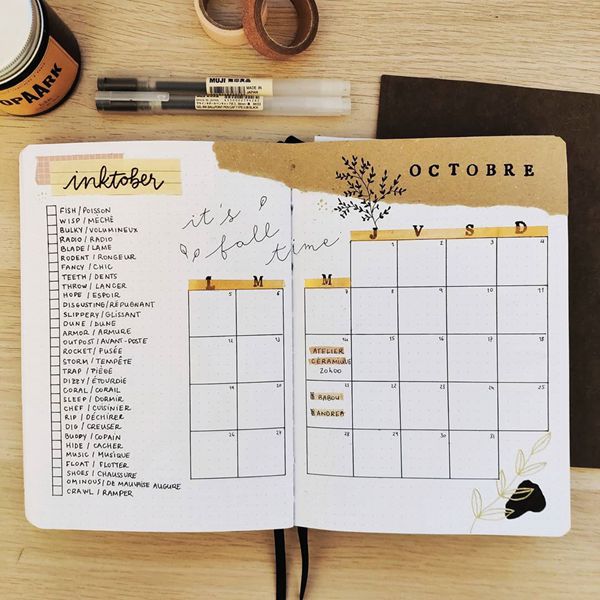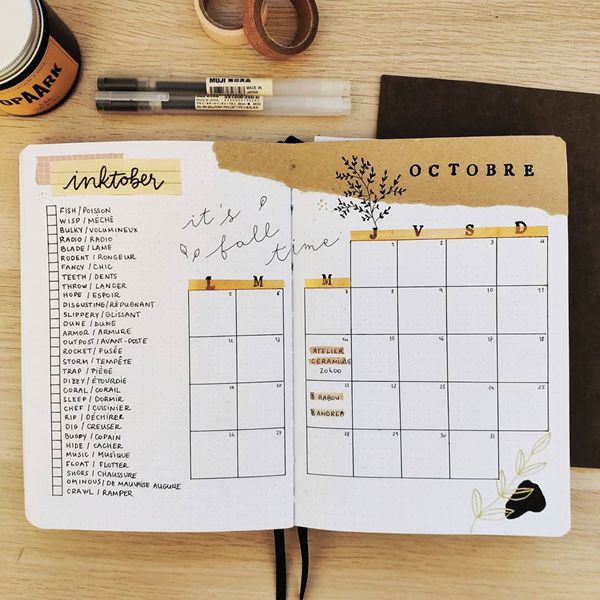 Photo credit: petitesfeuilles
This particular monthly spread makes me feel like the writer of my life. Such a gorgeous idea of incorporating learning. What would you like to learn? It could be a new language, recipes, expressions, formulas, road signs or music notes. Make it your own!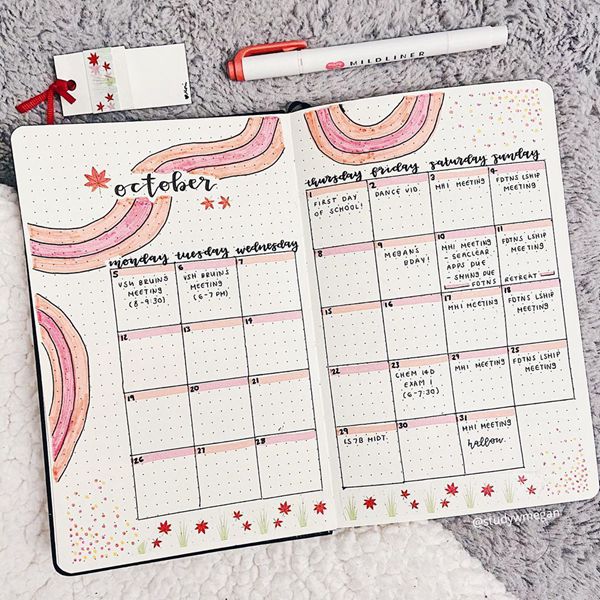 Photo credit: studywmegan
If you could imagine into creation the rainbows of the fall, they would most probably look quite similar to the ones in this October's spread. To top it off, the use of maple leaf stickers just brings more of an autumn feel to the pages. Get creative with your stickers.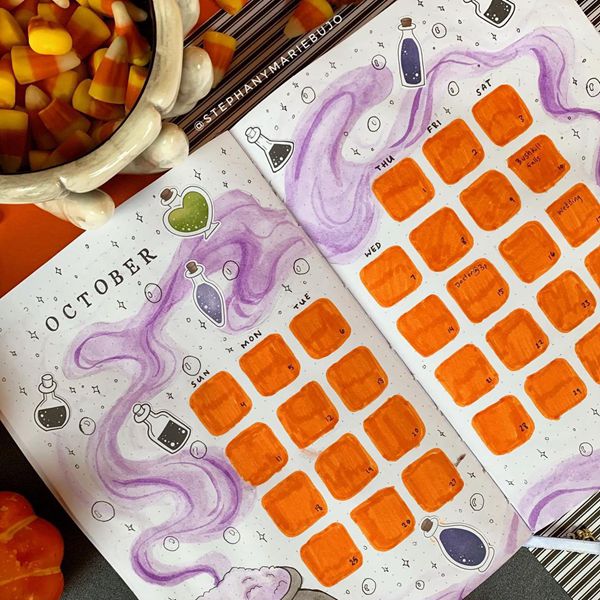 Photo credit: stephanymariebujo
Create your own magic with imaginary potions for that what you wish to attract this month. Whatever you put your mind and heart to, you can attract your way…shhh…it's a secret! It's the spread of your wishes coming true.
11. A Cubist's Dream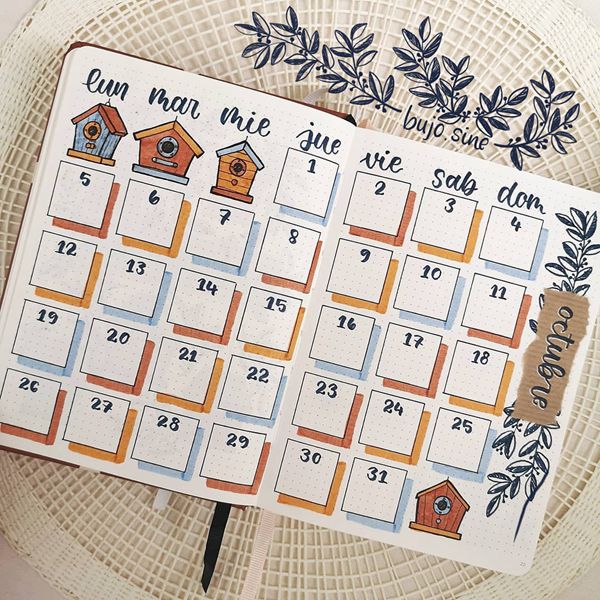 Photo credit: bujo.sine
Ok, so you like order, perfect lines and patterns? And your favourite artists are Paul Klee, Mark Rothko, Georges Braque or Piet Mondrian, then this monthly spread comes close to ticking all the boxes.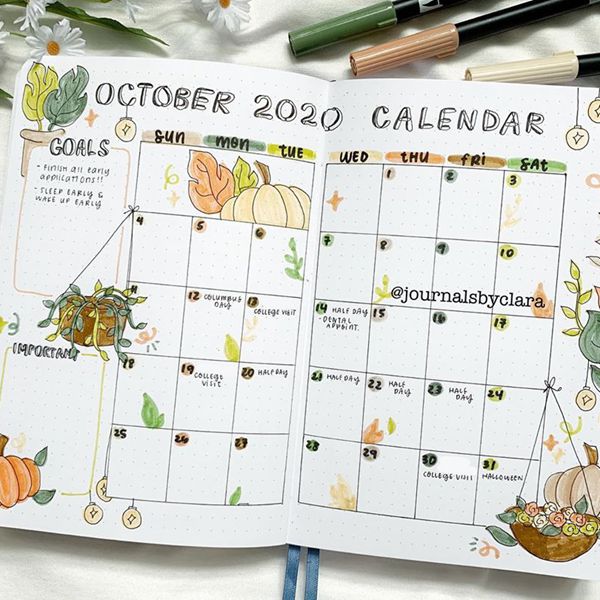 Photo credit: CCCC
Nature can never go out of style and keeping it alive during the cold months, makes the days, weeks and the month so much more brighter and, yes, greener. How about immortalising your house plants on the pages of October?
13. Mystical October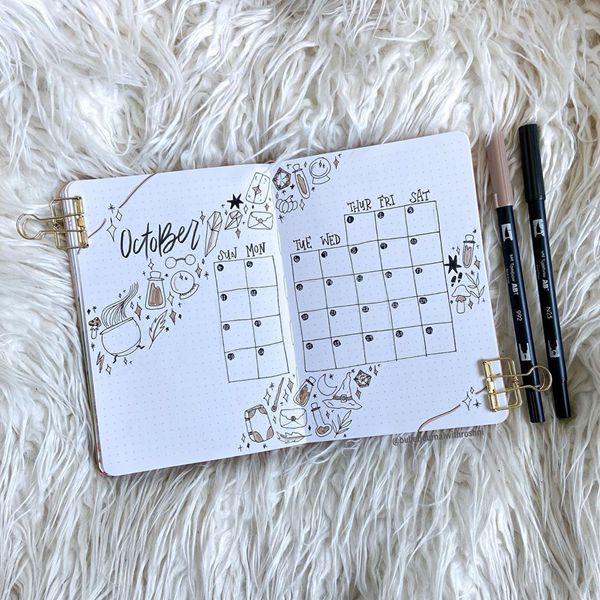 Photo credit: bulletjournalwithroshni
Summarising October on one page can be done and it is also possible to keep it minimalistic. What does October represent for you? Is it packed with unexplainable events, Halloween, darkness or rather light?
14. Shroom Shroom Mushroom Spread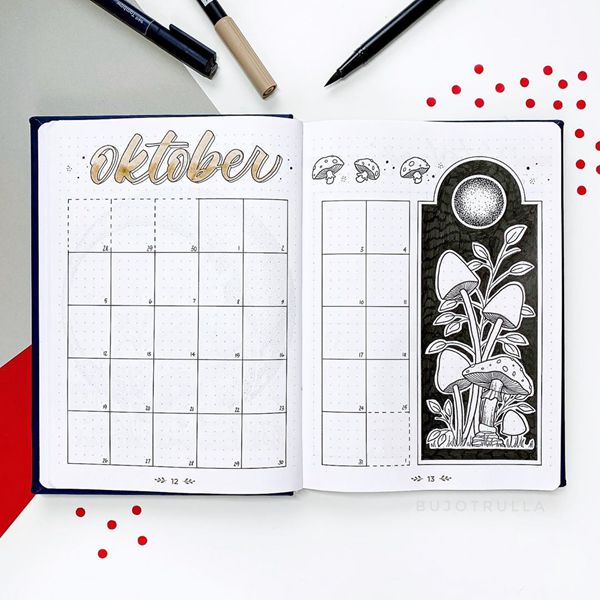 Photo credit: bujotrulla
Autumn is the month of going mushroom forging. The endless walks in the woods, looking for the edible mushrooms, that can later be prepared into a delicious sauce, just screams -Fall Is Here! So does this wonderful October spread.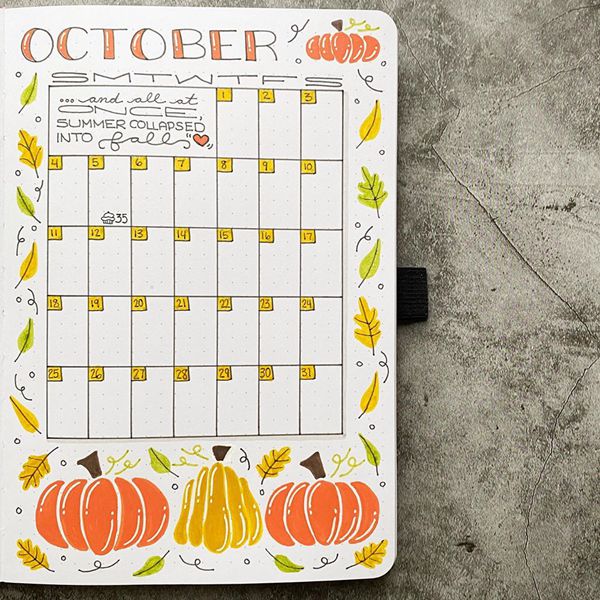 Photo credit: plansthatblossom
I love experimenting with new lettering and mixing up different styles. It makes me feel very 1940's in New York and it is a great way to explore, learn and show off some of those calligraphy skills you have picked up recently or in the past.
16. Style Matters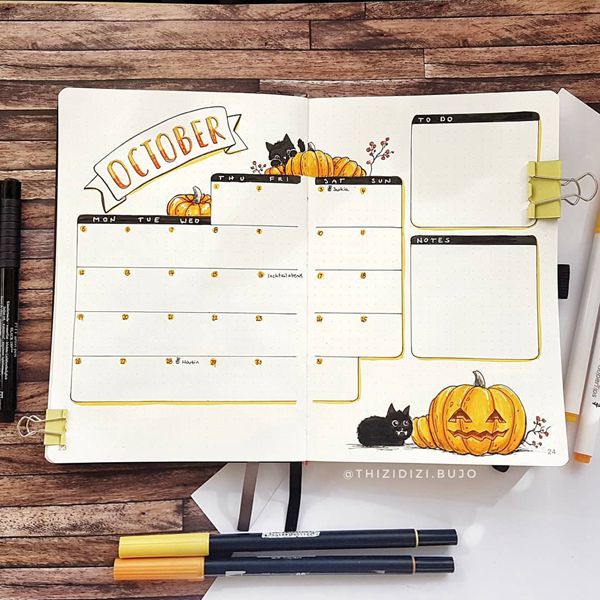 Photo credit: thizidizi.bujo
Organising the monthly page spread ahead of time can pay off nicely in the end. This one is is gorgeously balanced with its symmetrical asymmetry, which makes it very clean and pleasing to the eye. I'm also loving the shading of the objects, that gives them a 3D appeal.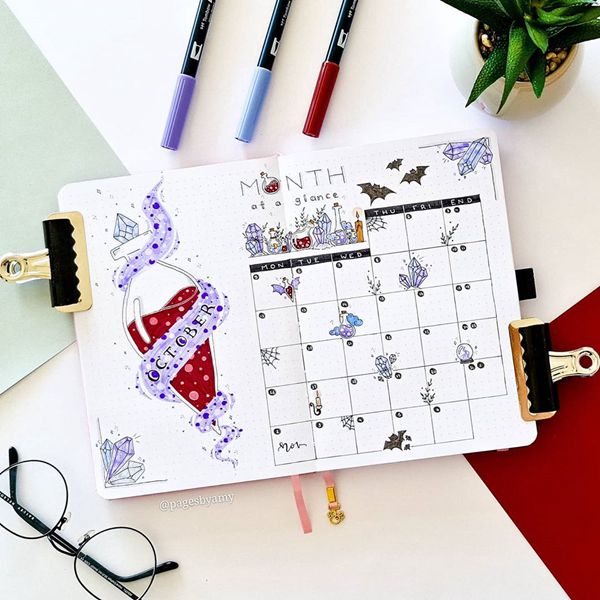 Photo credit: pagesbyamy
Looking at this monthly spread just makes me joyous with glee. I'm loving the bright colours, crystals and all other smaller images adorning the page. Keeping it in line with the theme of Halloween, also sets the scene.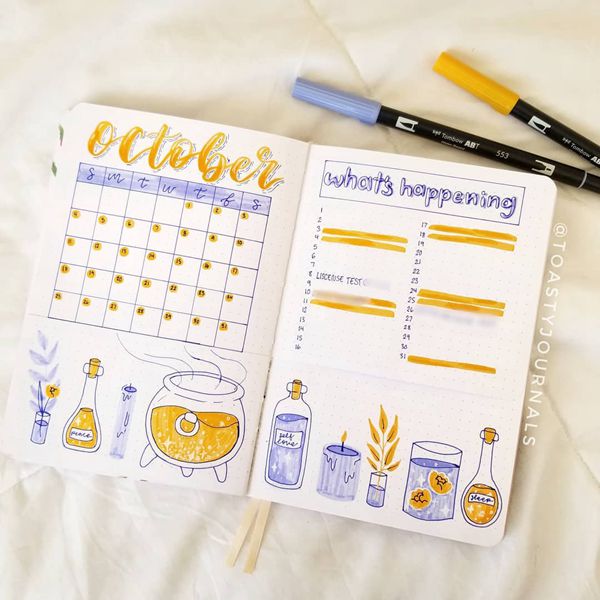 Photo credit: toastyjournals
Continuing with the Halloween theme and idea, this spread might be an opportunity for anyone to learn more about Alchemy and what it represents, alongside the mysteries of the dead that roam around the streets. How many potion possibilities do you know of?
19. Ghostly Boo Monthly Spread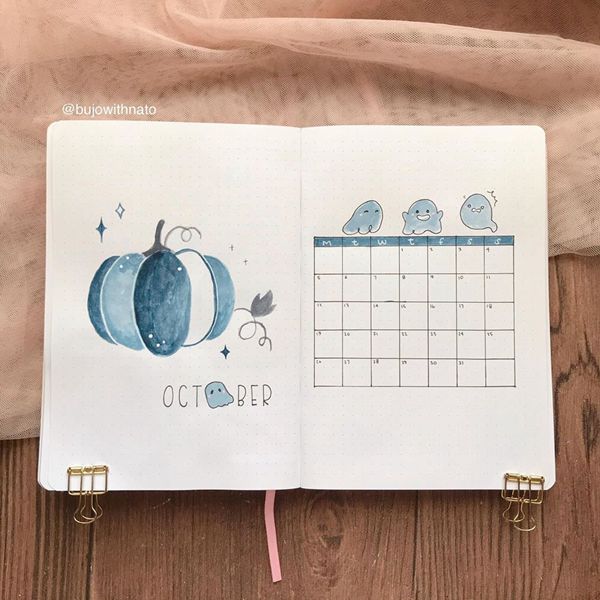 Photo credit: bujowithnato
Stunningly simple and minimalistic, this blue Casper-like ghost spread is very adorable and October themed, to get your hearts melting. I love the spin on the moods that differ for each little spirit too.
20. Ghostly Walks
Photo credit: steph.bujo
In a way this spread is both spooky and makes me think of the Pirates of the Caribbean. Just about to pack my hiking bag and go on an adventure, are you coming? Let's depart on the marvellous and ghostly adventure of October!
21. 1920's Art Deco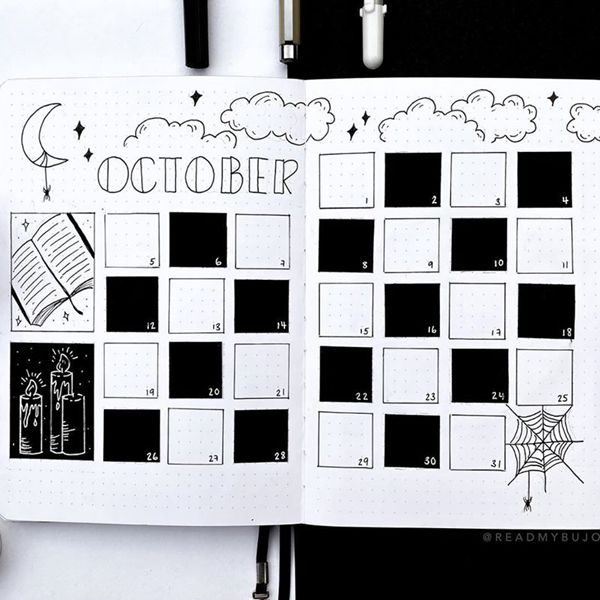 Photo credit: readmybujo
Keeping it simple yet glamorous is the key here. The choice of solemnly black and white colours makes this a very sleek and elegant monthly spread. Do you also want to get up and start top dance some swing?
22. Summer Blossoms in October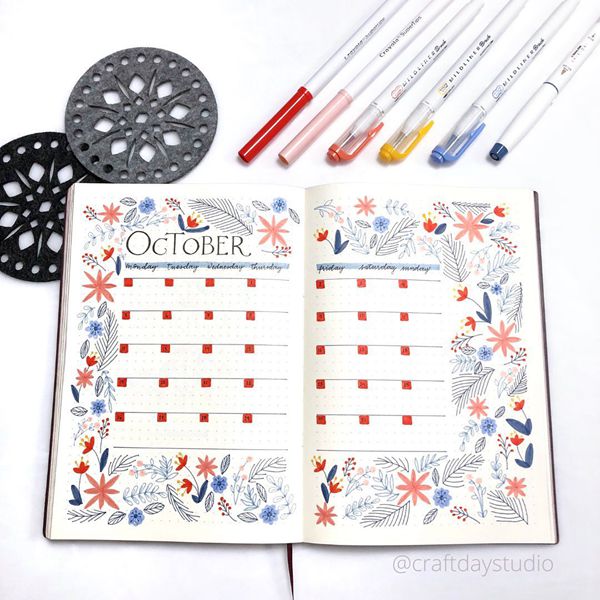 Photo credit: craftdaystudio
I have mentioned before that I absolutely adore nature and all that it embodies, this time it's also flowers. Talking my mind back to memories of London's Liberty store browsing and the best part is, that in some places around the world October is the start of Spring.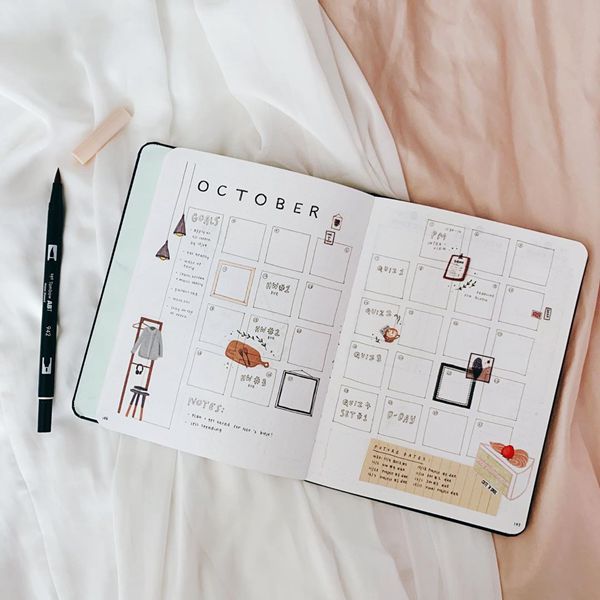 Photo credit: byclairee
Home is where my heart is! Not every year October is all about Halloween, spooky stories, potions and coloured leaves. That's why I love this spread, as it breaks all patterns and keeps it simple, comfy and homey.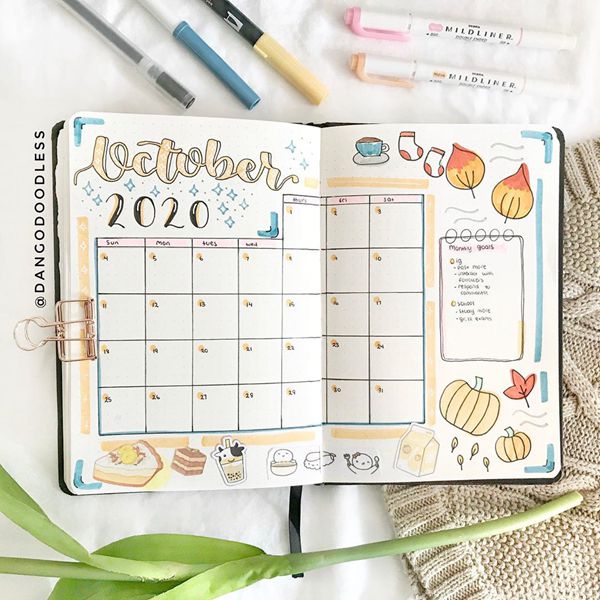 Photo credit: dangodoodless
Continuing on the feeling that makes the house a home, I really like this find and I bet you can agree that the slice of cake looks very delicious. What makes the autumn the month of the fall season for you? Is it also a cup of hot beverage, mittens and woollen socks, or is it something else or even more diverse, than these?
25. Be the Architect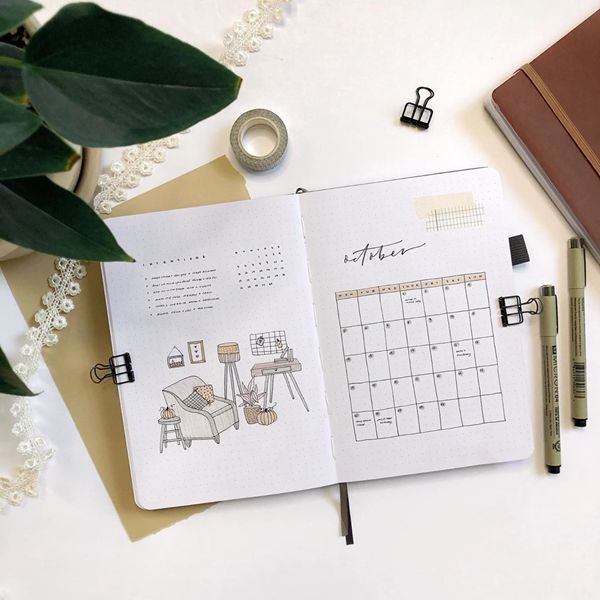 Photo credit: leelajournals
To finish up this October's monthly spread ideas, I wanted to share another favourite of mine. The clean and clear lines, miniature perspective and the few carefully chosen colours makes me want to redecorate my home and become an architect for a day. What is your favourite spot in the room to cozy and warm up during October?
I really hope you enjoyed these few ideas, as well as I enjoyed shattering them with you. October can be such a diverse month, wherever in the world you are. What makes this month so memorable, lovable and special for you? Please share and I'll be happy to find out. Wishing you a warm October, no matter if you are in Scandinavia, Canada, Argentina or Japan.