The summer has come and gone, and transitioned into the colourful autumn. The melancholicm raining season has started and the leaves have turned to yellows, reds and browns. It's a wonderfullym diverse and colourful season and October is the peak of it. It is one of my favourite months of the fall and also a fun one to create different weekly spreads, that can inspire me each day. So, I decided top share some of the ones I like most.
1. Cozy Drinks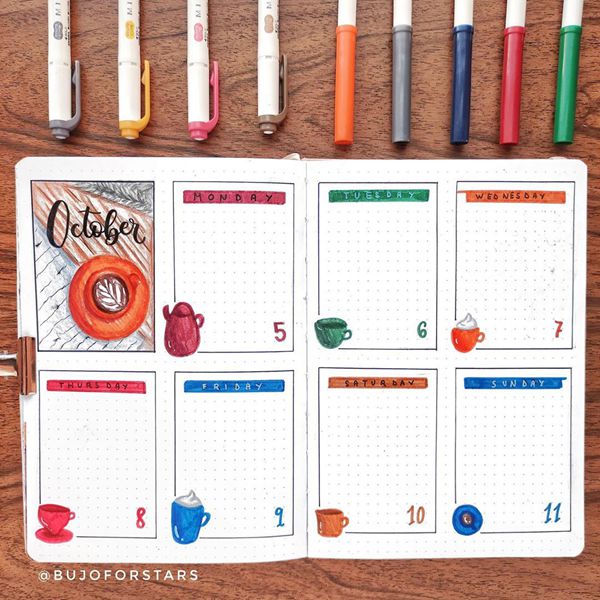 Photo credit: Bujoforstars
October is the time to cozy up, and what could be better than a nice hot beverage, that just wraps you up in its heat and an the pleasant aroma. One of the spreads I really like is the one that makes you get the Hygge feeling.
2. Simple and Sleek Weekly Spread
Photo credit: Dutch_dots
The wonderful creations that I really like are the ones that start as mistakes or mishaps. A simple coffee stain and spillage that leads to a lovely coffee bleached page, which you can decorate the way it pleases you. It's a very clever idea to start that week with coffee and finish it the same way, whilst keeping to the theme of autumn, and did you notice that there are only six days?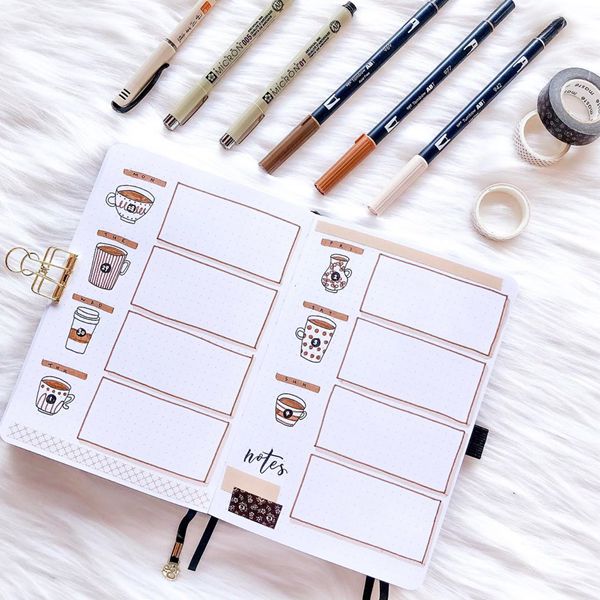 Photo credit: Bujo.by.Ingrid
You know that feeling, when the mornings and days become cooler but you still have to get to that meeting, job or event and the only way to stay warm is with a cup of coffee or a hot chocolate in your hands. Why not commemorate the love for the hot beverage you love and list every single one you enjoy savouring on each day? Or maybe you can create a list of different types of hot drinks you want to taste each day.
4. Harvesting Pumpkins Weekly Spread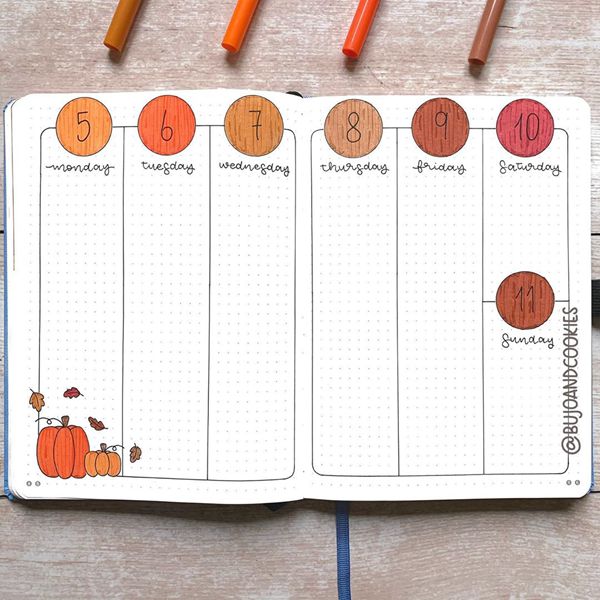 Photo credit: Bujoandcookies
I came across this very clean and simple idea of minimalistic pumpkin harvest that can be easily turned into a fun Jack O Lantern weekly spread. I also absolutely loved the idea of a gradual increase in the shades of the autumn browns, as a light build-up towards the weekend.
Photo credit: Notikjournal
Continuing with the theme of Jack O Lantern and Halloween, we cannot forget that October is the month of Trick or Treating and spooking one another. In this example I really liked that the author portrayed the idea in a fun and clever picture of a happy flying bat pumpkin, because you know, they do exist .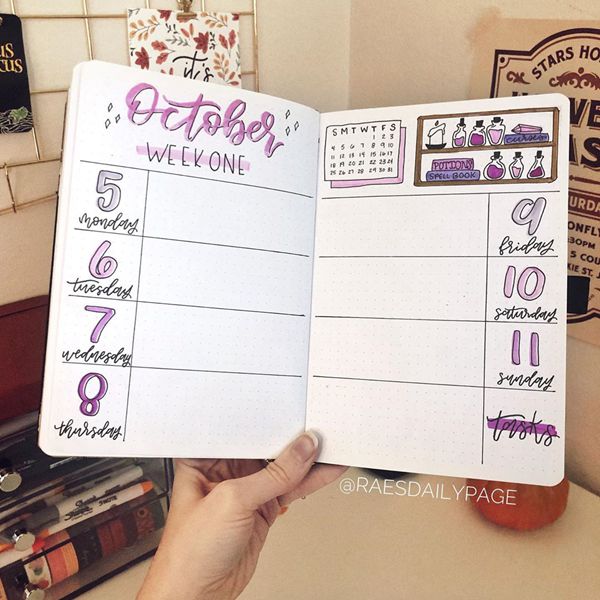 Photo credit: Raesdailypage
October and the Halloween can also be the witchcraft month. Jack O Lanterns aren't the only ones having fun. This way you can still stay in the theme of the month, if you wish but also break away from the colour scheme of autumn and go bananas for the violets, purples and pinks, or any other colour you fancy.
7. Let there be Love Weekly Spread
Photo credit: Satohom.bujo
Keeping with the theme of witchcraft and the potions, why not focus on love? The idea of a dream like state, magic encircling the week and wishing upon a star, can create for a very special week, and who knows – the week might end up being packed with love.
8. Healing Powers Weekly Spread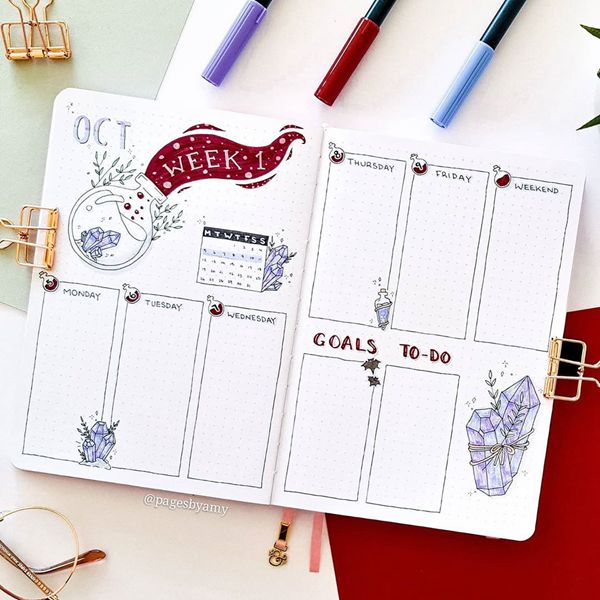 Photo credit: Pagesbyamy
Moving on from ghosts, spirits, witches and magical potions, October quite often can be the month of healing, reflecting and meditation. This lovely idea of a weekly spread made me think of a possibility of the what ifs. What is Harry Potter was a girl?
9. Mean Beans Pumpkin Weekly Spread
Photo credit: Stephaniemariebujo
Another creative and easy way to decorate the weekly spread is with stickers, and even better if they match the theme of the month. Sometimes, I really like to keep it simple and create the spread quickly, so that I can focus on other things, and even better, when inspired by others and their use of adhesives.
10. The Shapes of Pumpkins Weekly Spread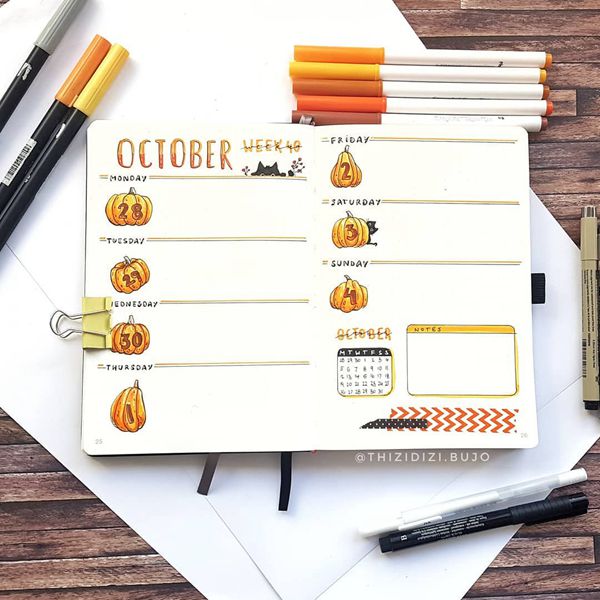 Photo credit: Thizidizi.bujo
Besides experimenting with colours and the various shades of autumn browns, oranges or reds, how about experimenting with and exploring the shapes of pumpkins. Have you ever lifted one pumpkin after another at the local food market? It is a lot of fun and it is even more exciting to decide the shape of each day. Will it be the fat Wednesday or the long Thursday?
11. American History Weekly Spread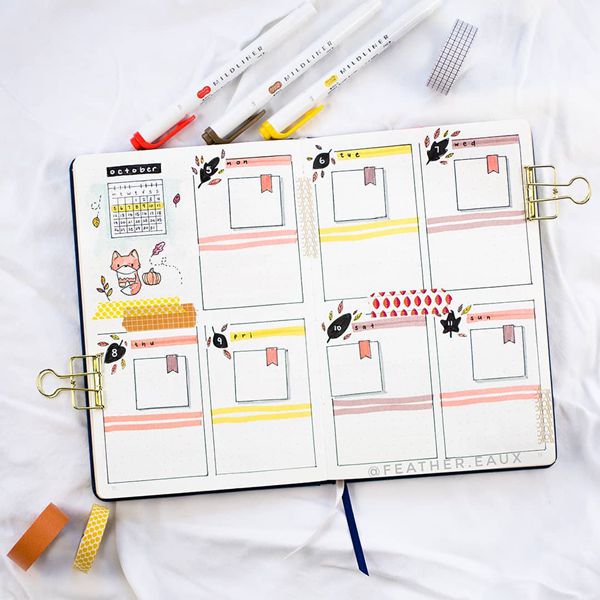 Photo credit: FFFFF
October is often considered to be the month of the dead and the ghosts or spirits, but if you are not into this or want to explore beyond, you could look at connecting to your animal spirit, like the ancient Indians did. Which is your animal spirit?
12. Foxy Cutie Pie Weekly Spread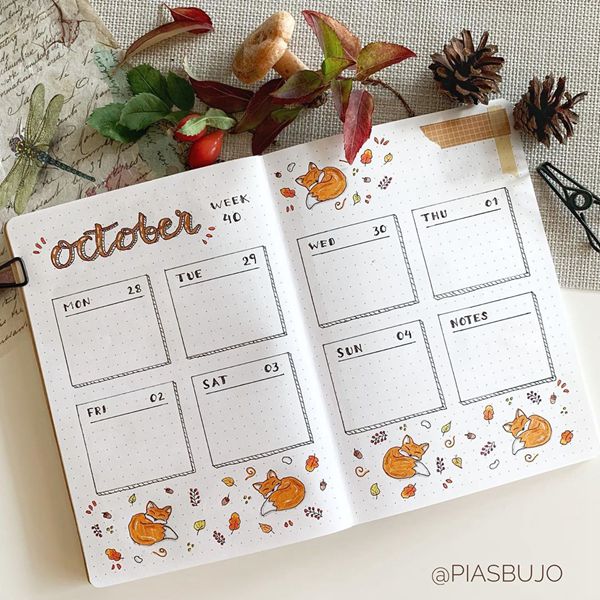 Photo credit: Piasbujo
I absolutely adore the furry and white tip tailed foxes and what is there not to love? The foxy fox was the best friend of The Little Prince. This spread is easy to create by doubling and flipping the same image and adding some autumn decorations, making it a look like the foxy is dreaming of autumn sweets.
13. Delicious Fall Weekly Spread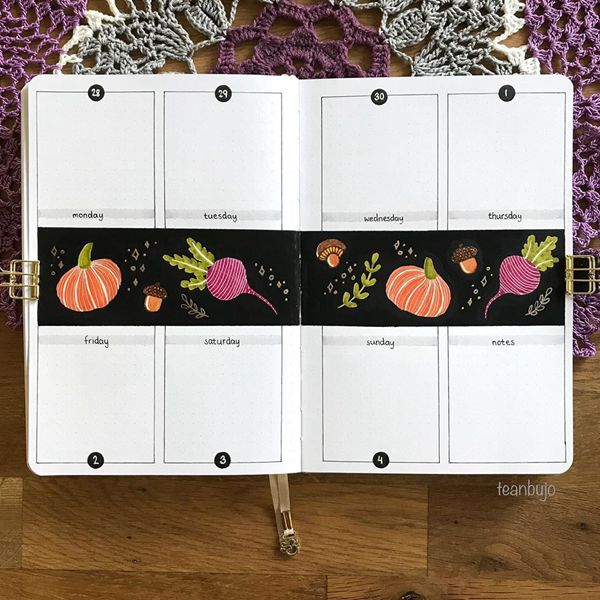 Photo credit: Teanbujo
Talking about sweets, harvest and food, why not immortalise the various autumn veg that you have at home? I absolutely love the division of the page in three sections here and blocking the mid part in sleek black, that allows for the other colours to pop and the rest of the days, simply blend in.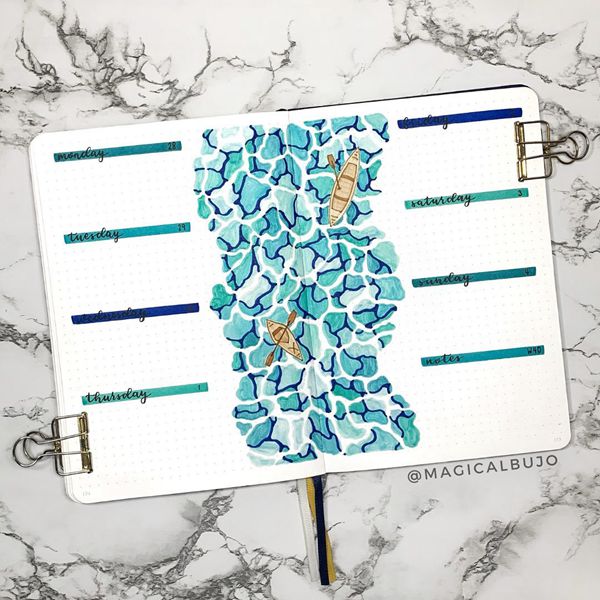 Photo credit: Magicalbujo
Then again, it's nice to break the pattern and include a weekly spread that contrasts in colours, feelings and the idea of the fall. In the end, autumn can also be a sporty adventure in the wild being observed from the bird's eye view. The turquoise blues contrasting with the autumn browns will just make many to go outdoors and keep hold of a piece of the summer.
15. Not Sticking to Rules Weekly Spread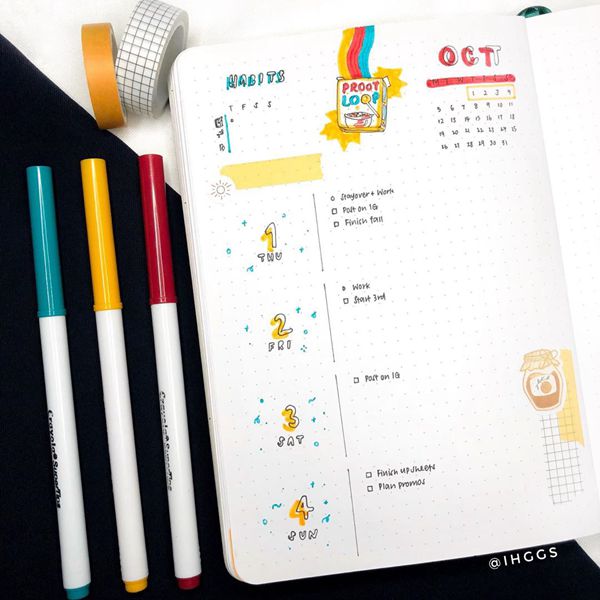 Photo credit: Ihggs
Ok, yes, I get it – it's October! Obviously that doesn't mean that you need to stick to the colours of the fall. Maybe you're feeling very fruity today and want to dive right into fruit loops and the rainbow of colours that they represent. This is indeed a very delicious and sweet spread.
16. Stained Glass Weekly Spread
Photo credit: Craftdaystudio
I adore romance and this beautiful and clever idea of a window spread, where flowers decorate the stained glass section is a wonderful break and pause to the typical fall selection. Sure, you can keep the botanical inspiration and match it to the month of October by replacing the spring flowers with those that decorate an autumn garden and still match it to the soft style of Liberty.
Photo credit: Sydneyann.journals
Simplicity can often be the best way to try out and put emphasis on other accents, like developing a nicely handwritten week in calligraphy. I have found that for my personal weekly spreads, simplicity can go a long way, especially if I'm anticipating a busy and colourful week ahead.
18. Scandinavian Charm Weekly Spread
Photo credit: Readmybujo
There is something very elegant and sophisticated about sticking to just one to three colours, especially to black. Geometrical and plain organisational spreads can create a very professional and smart look for the week. There are no reasons to not love this.
19. Pumpkins Raining like Confetti Weekly Spread
Photo credit: luanas_bujo
Who knew that October can be as colourful and delicious? The trick here is to stick to just four colours and repeat this through the week or even two. Inserting the Dutch doors, in my opinion, provide a sort of romance to the spread. They are always a favourite of mine, like a joining and middle pathway that connects the start with the end.
Photo credit: Bulletsandconfetti
I absolutely adore the unfolding weekly spreads that merge more than two pages together and creates a sort of a weekly menu or as they are called the Dutch doors. This is wonderful for the first or last weeks of the month, when goals, tasks or plans can be incorporated in the week. Also, not in all countries around the world autumn is in the shades of browns, cacti's greens work too.
21. Mismatching Perfection Weekly Spread
Photo credit: Doodlelou.co
This one is a really fun and cool weekly spread. I like the idea of mismatching size, patterns and viewpoints, as it give a bit more edge. Another great idea to adapt this to October is by choosing one specific characteristic for each day and just working on that as an individual piece. The whole picture will become evident in the end.
22. Organised and Clear Weekly Spread
Photo credit: Themonsterofstationery
There is no need to panic, if you are not as good at drawing, yet. Fabulous weekly spreads can be created with simple tools, like templates, rulers, shapes and carefully selected and themed stickers.
Photo credit: Steph.bujo
This one is a nice spin on the whole autumn theme. When it gets colder outdoors it is lovely to spend some time indoors and how about, each day, looking outside from a different window in your lovely building? Explore the possibilities to change your scenery.
24. The Spooky Halloween Town Spread
Photo credit: Creative.desaster
I really like the interpretation of adding bats to the city highlight, and not just any city but the one you live in. Just imagining that the city you grew up in or live in has become haunted can give you shivers or create an intrigue to go exploring.
25. Haunting House Weekly Spread
Photo credit: Barbarahaegerart
To finish up our list of October, I have decided to go for the haunting house because this month is nothing without the feeling of fear. When else can your bujo be as scary as you can possibly imagine or create it? Just go for it and don't be afraid.
I hope you enjoyed this lovely, spooky, creative and diverse finds of different and wonderful ideas for your October weeks. Can you put a creative spin on one of these? Feel free to explore and share it here, you might inspire or others. Have a colourful October!