In the bullet journal community, the weekly spread is sacred. How will you stay organized and work towards your weekly goals this week? Will your weekly spread match your monthly log or will you pick a new theme each week? Whichever path you pick, we've got a list here of 40 bullet journal December weekly spread ideas.
Pin your favorites to Pinterest to save them for later in your bullet journal ideas board. Once you pick the one you want to try, let us know how your recreation went in the comments!
1. Candy Cane Boxes Bujo Daily Boxes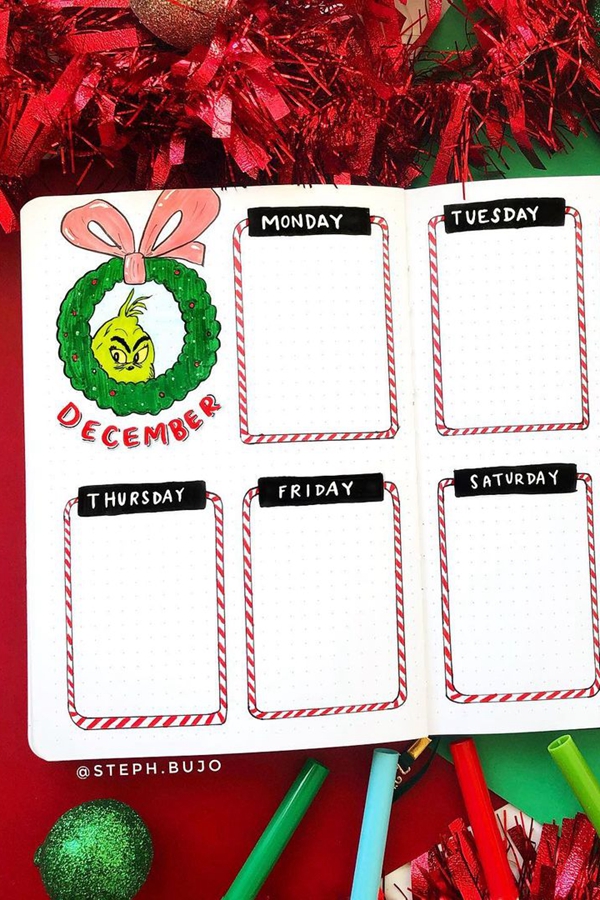 Photo credit: steph.bujo
The Grinch can't interrupt our happy December! These candy cane stripes are a great way to create your daily boxes for the weekly spread. They add playfulness and movement.
2. White Lettering on Green and Red
Photo credit: miras.journal
3. Snowflake Headers Bujo Spread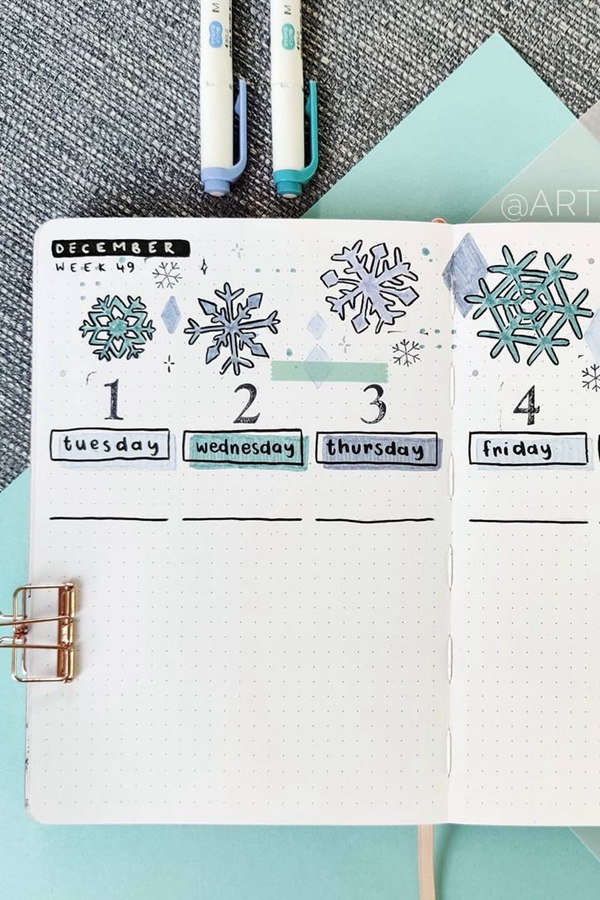 Photo credit: art_n_foxes
4. Weather Report, Holly Wreaths, Oh My!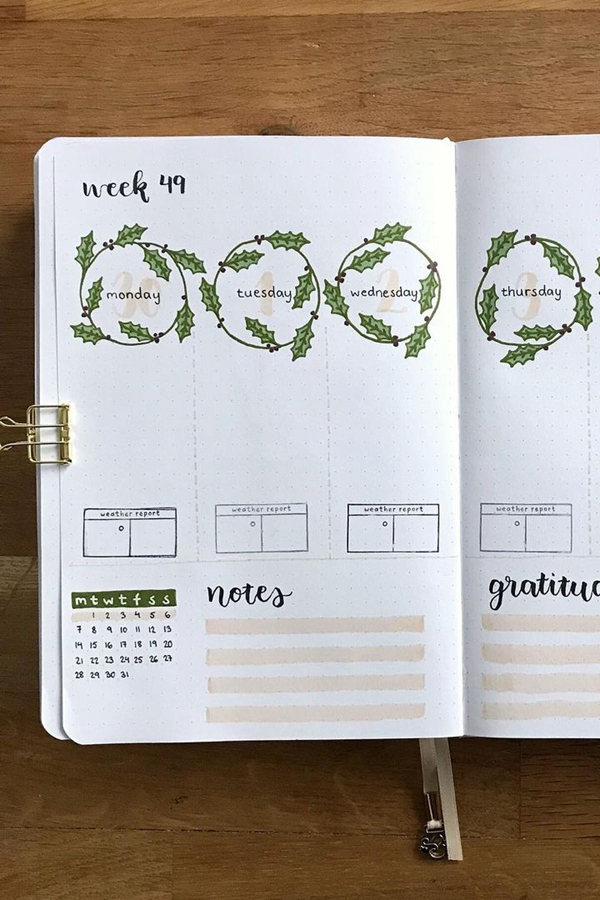 Photo credit: teanbujo
Creating a simple wreath around the days of the week is a cute way to decorate your weekly spread. This holly wreath is a subtle reminder of Christmas. With the tiny boxes to track the weather, you are ready to plan your day.
5. Themed Task Boxes For Bujo Organizing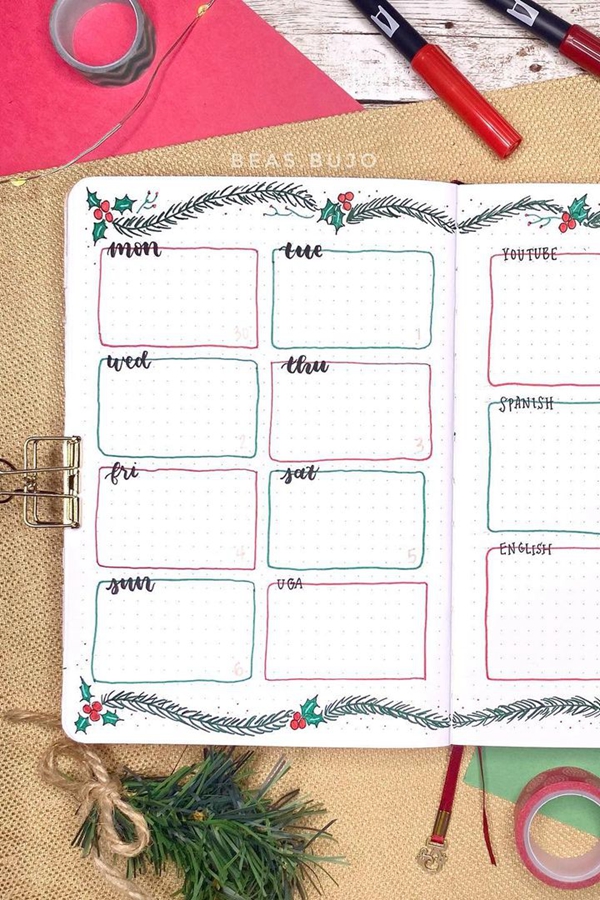 Photo credit: beas.bujo
With one side for notes per day and the opposite side of the spread for lists by theme, this is an organized weekly spread! Keep all your notes and tasks orderly. You can also use a set up like these to put tasks into priority buckets.
6. Catchall Brain Dump List Ideas
Photo credit: bulletsandconfetti
7. Reindeer Clock Doodle Weekly Spread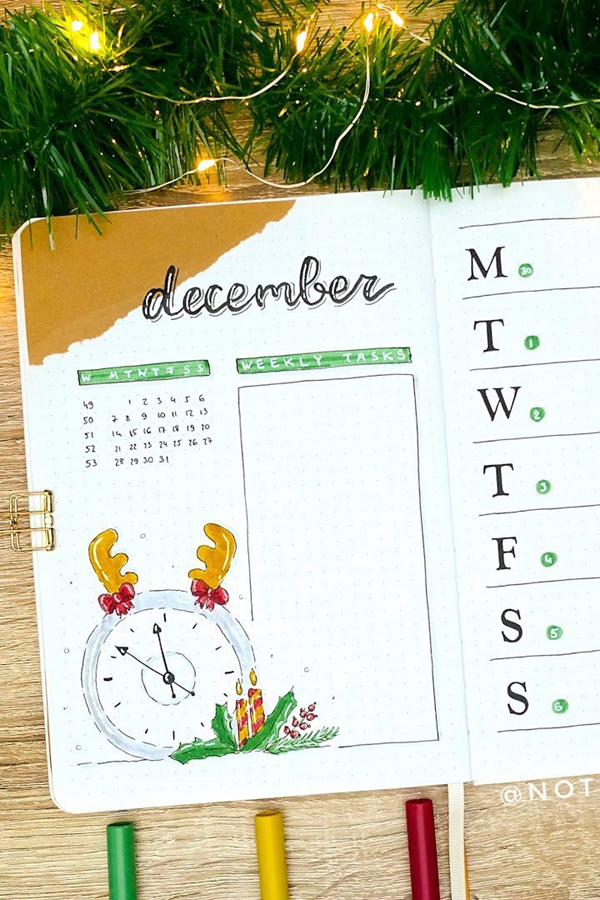 Photo credit: notikjournal
8. Use Festive Doodles to Break Up the Pages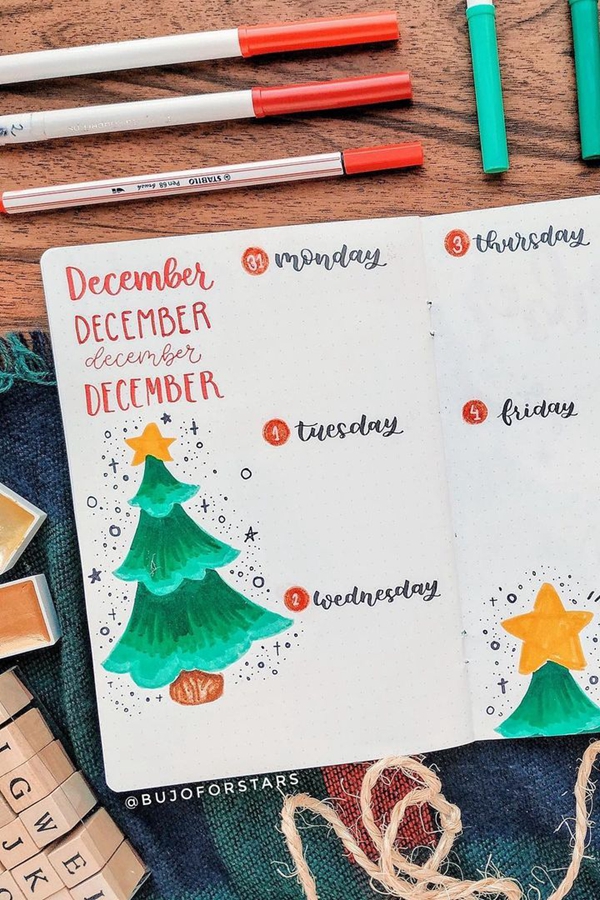 Photo credit: bujoforstars
9. Have a Notes Sidebar and December Calendar at a Glance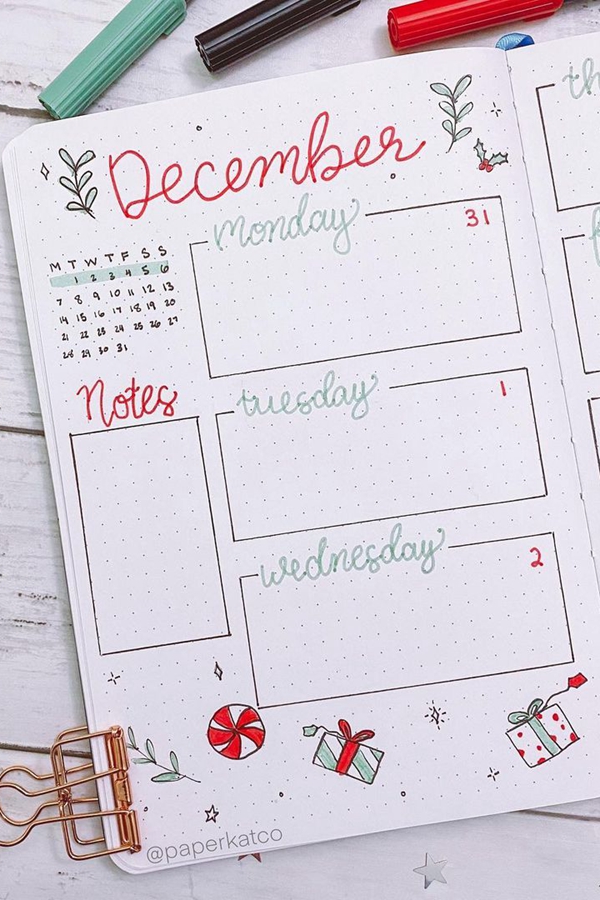 Photo credit: paperkatco
10. Alternate Complementary Colors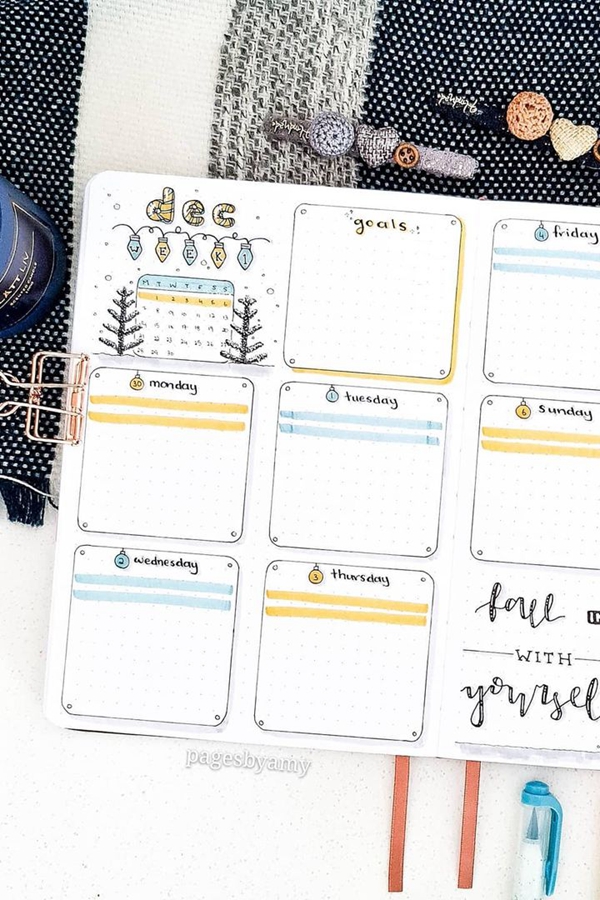 Photo credit: pagesbyamy
Working with complementary colors on the color wheel, like blue and yellow, creates a subtle matching spread. What complementary color pairing is your favorite?
11. Separate Days In Your Weekly Spread with String Lights
Photo credit: lennydoesthings
This cozy and dreamy spread has me drooling. The twinkle lights and fireplace set a beautiful theme idea for this weekly spread. Don't you want to curl up and read a book in this scene? Great job Lenny!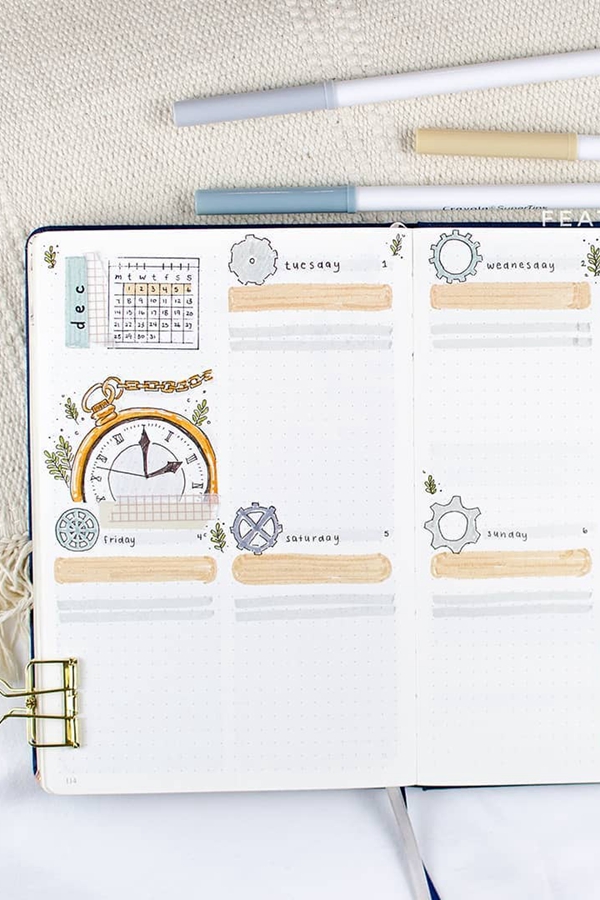 Photo credit: feather.eaux
13. Elaborate Weekly Spreads for December
Photo credit: plinthced
My mouth dropped open when I saw this December weekly spread. Look at all the detail! How long do you think it took to create? The xylophone, typewriter, browns and blues all work well together in this thread. I would love to see how it looks after the pen, with their notes and to-dos scribbled in.
14. Simple Page Flag December Weekly Spread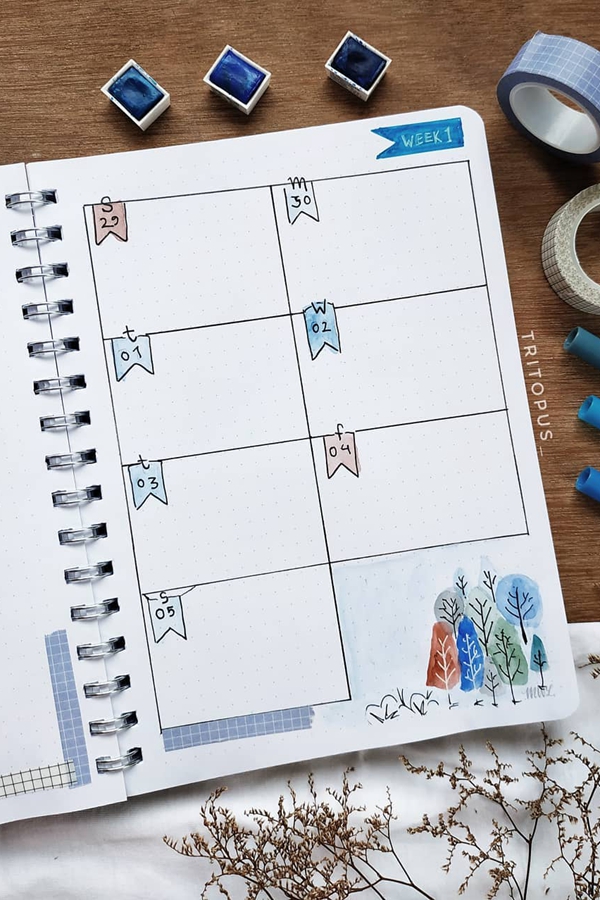 Photo credit: tritopus_
15. Drawing Framed by Your Weekly Calendar
Photo credit: eurekapalette
16. December Doodles Weekly Layout Idea
Photo credit: mochibujo
When doodles fit a feeling, you know it's good. The tea, coffee cup, scarf, and other doodles in this design feel like a day our running errands and loving life in December. What's your favorite doodle to draw?
17. Jam and Berries Weekly Spread Doodles
Photo credit: magicalbujo
18. Green and Peach Themed Weekly Log
Photo credit: teanbujo
This spread speaks of calm, cool, and collected. With the green and peach tones and minimal designs, I'd feel ready to take on the world with this spread.
19. Simple Foilage Doodle Bullet Journal Weekly Spread
Photo credit: bulletsandconfetti
20. Christmas Ornament Date Header Ideas
Photo credit: notikjournal
21. Red Truck December Weekly Spread
Photo credit: marthasjournal
I see this red truck picking up a Christmas tree in designs everywhere. Haven't you? It's a classic Christmas reminder. The different size presents at the top provide adorable date headers. Want to mix this spread up? Draw a version where the truck is also carrying presents!
22. Gnome December Doodle Ideas
Photo credit: aubrey_doodles
23. 3D Shadow Work Weekly Layouts with Dimension
Photo credit: barbarahaegerart
Using shading to add shadows and dimension in your bujo spread is the perfect way to make your designs stand out. It takes a little practice but is sure to impress.
24. Star Constellation December Weekly Spread Ideas
Photo credit: kc.bujo
Look outside your gingerbread house and into the stars above. Constellations and shooting star wishes await you! I love how the weekday headers connect together across the sky.
25. One Page Weekly Bujo Spread
Photo credit: ginnjournals
This simple one-page design with holly leaves and berries scattered throughout will help you stay organized. Also, it looks cute! You can mimic a similar spread each month with a different bush or flower for a year-long nature theme. How do you think it will look with roses or gardenias?
26. Cookie Dough Weekly Spread December Ideas
Photo credit: thizidizi.bujo
This December weekly log is adorable, using cookie dough to spell out the days and dates in the middle of the page instead of on the top of each box. This is a playful design featuring bubble letter cookie shapes.
27. Bullet Journal Weekly Spread Featuring Icons Above Each Date
Photo credit: withkx
28. Event Sidebar to Save Space for To-Dos in Weekly Spreads
Photo credit: tritopus_
Several of the designs we've shared today has included small sidebars for event lists, notes, or brain dump task lists. This is helpful in spreads so that what you have to do doesn't get in the way of appointments and where you have to be.
29. Dripping Ornaments Decorative Bujo Weekly Spread
Photo credit: bujo.by.ingrid
30. Cozy Winter Bullet Journal Weekly Spread with Photos and Stickers
Photo credit: somekindwords_
This December weekly spread includes a snowy printed photograph taped in with decorative washi tape. This is the perfect opportunity to print out your favorite photos from your Pinterest board! Pick something to represent your intention or vision for the week, or go with a personal photo for memory keeping.
31. Unexpected Vibrant Florals December Doodle Ideas
Photo credit: miloe.joanne
We have seen a lot of snow and Christmas in these weekly bujo spread round-ups… because it works! But adding in flowers? Sign me up. I love doing the unexpected.
32. Teacup Weekly Spread Design
Photo credit: betulsdrawings
There are so many possibilities when you create a tea or coffee spread for your bullet journal. You can go for simple saucers or antique designs, with each cup bright with multiple colors, or keep one main theme like in this spread.
33. Scalloped Dividers Under Christmas Balls Decoration Idea
Photo credit: happyfishbujo
34. Grey Lines on Dot Grid Paper for Bujo Organizing Tips
Photo credit: phdoodling21
The hot chocolate with whip cream is very cute on this December weekly spread, however, the genius use of grey lines is what we are talking about here. While it is subtle, using a grey marker or brush tip pen on dot grid paper helps keep your handwriting neat – giving you more space to write and a cleaner spread overall. This is common in dot grid journals because it's a technique that works.
35. Hogwarts Castle Landscape Bullet Journal Weekly Theme
Photo credit: bujologistgram
First, this is gorgeous. Secondly, having a castle landscape like this takes up a lot of space on the weekly log, which is great for weeks when you have downtime.
36. Represent Your House Colors
Photo credit: bujologistgram
Whether you decide to focus on one Hogwarts house or use scarves from all four houses, this is a cute design to mimic.
37. Front Porch December Weekly Spread
Photo credit: marthasjournal
I love the idea of each week representing a different door in your life. Or, the same door with new items on the porch to help you call forth your goals and to-dos for the week. One commenter even said, "I'm obsessed!"
Yes, we are too.
38. Brown Bag Date Covers – Easy Bullet Journal Hacks
Photo credit: lilou.bujo
Save your Publix brown bags and rip off a few pieces for your journal! Ths bujo hack is easy, but it adds an extra delta to your spreads. Combined with the snowy forest, it's a comfy bujo aesthetic weekly spread.
39. Pretzel Headers with Long Dated Boxes
Photo credit: anotherdayanotherplan
Pretzels and rolling pins… what an adorable combination. I'm glad to see these doodles header ideas on simple symmetrical boxes. Make a list, check it off, move on… but with cute doodles!
40. Olaf Snowman Frozen Bujo Spread
Photo credit: metro_boulot_bujo
Love is an open door! Are you ready to step through into this snowy December weekly thread idea? Olaf is walking right off the page into next week with you.
Which of these forty December bullet journal ideas and tips did you like the most? Which one are you going to pin to your bujo Pinterest boards and try for yourself?
I am very tempted by the Frozen-themed weekly spread, but there are so many to choose from! I'll likely combine a few. The starry night constellations were a unique choice.