December is symbolic of many things. Snow and winter, Christma, starting fresh, time for goals and memories… There are often many family memories and events. Whatever December means to you, we wish you a good month and a stellar end to the year.
These bullet journal ideas for cover pages and monthly spread are a great starting point for your new month in your bujo. Whether you love to get new doodle ideas, love to draw, or prefer collage and stickers – we've compiled it all into this list of 35 cover pages.
Pin your favorites along the way and don't forget to leave a comment with which design or hack you are going to try first!
1. Darling Window Sill December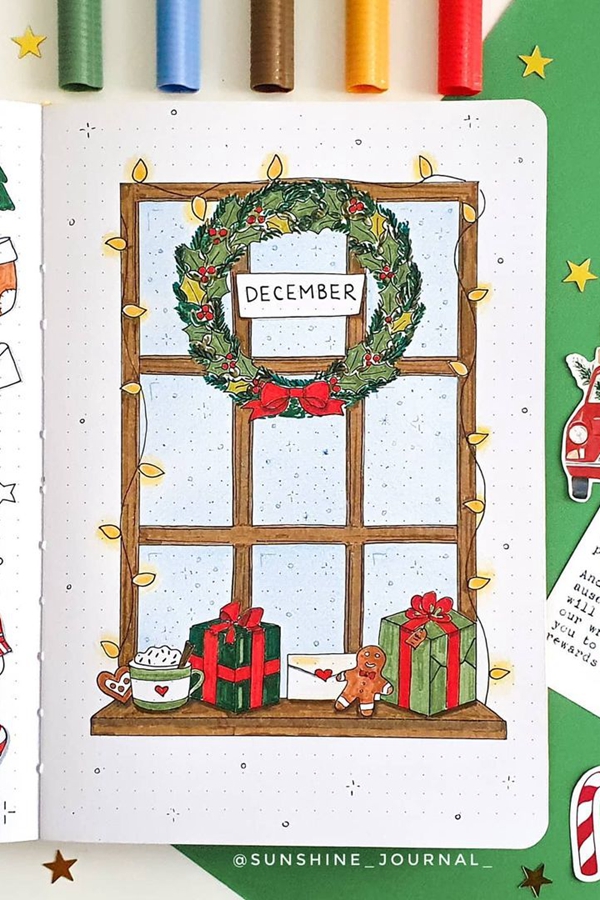 Photo credit: sunshine_journal_
The detail in this December cover page is impressive, to say the least. If you have the time to spend a little extra on any one page in your bullet journal, the cover page is the place to do it as it sets the tone for the rest of the month.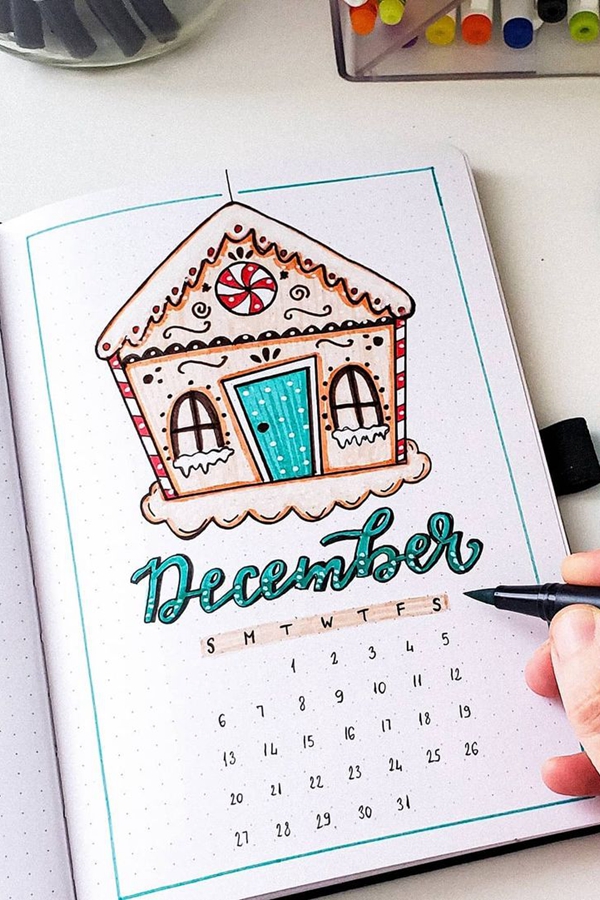 Photo credit: seed_successful_you
Gingerbread houses are a charming cover page addition to end off the year. Add extra character with little gumdrop doodles along the page.
3. Have a Sweet December with Cupcake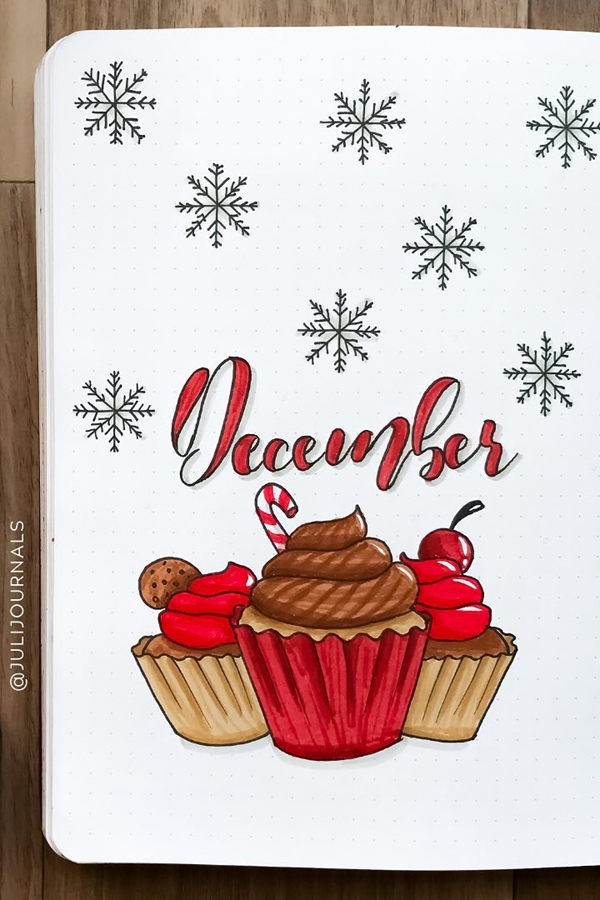 Photo credit: julijournals
Make your life as sweet as candy with this easy cupcake cover page. If you want to go even bigger on the details, add rainbow sprinkles.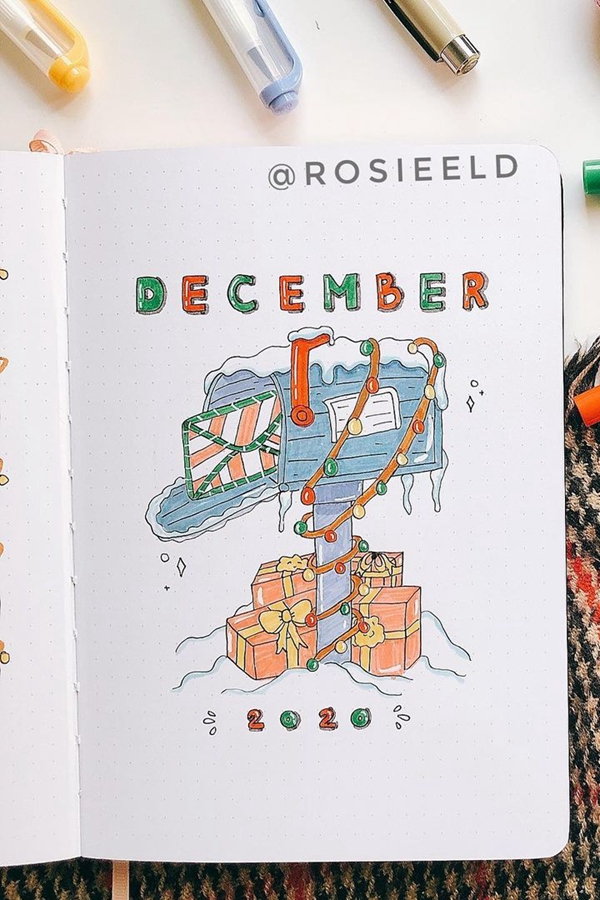 Photo credit: rosieeld
A snowy mailbox makes for a wonderful. You can even do a different mailbox for each month of the year, adding flowers in the Spring or small animals beside it like birds. This December cover page from Rose includes letters and packages. Is one from Santa?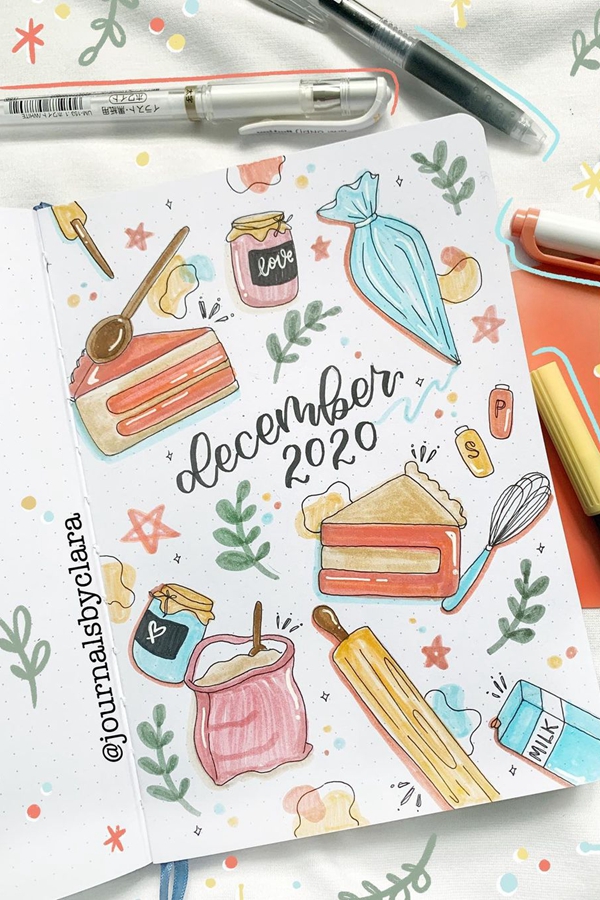 Photo credit: journalsbyclara
Cake, cookies, sweets, I want it all. Pick your favorite food as a cover idea or make memories by adding the rolling pin and flour to represent your favorite baking memory. Baking is a tradition many people hold around this time of year. Does your family bake together?
Photo credit: marthasjournal
Seeing the red truck theme from the front makes this design stand out, as more often than not we see a side-angle of this popular theme. It's a classic for a reason, don't you think?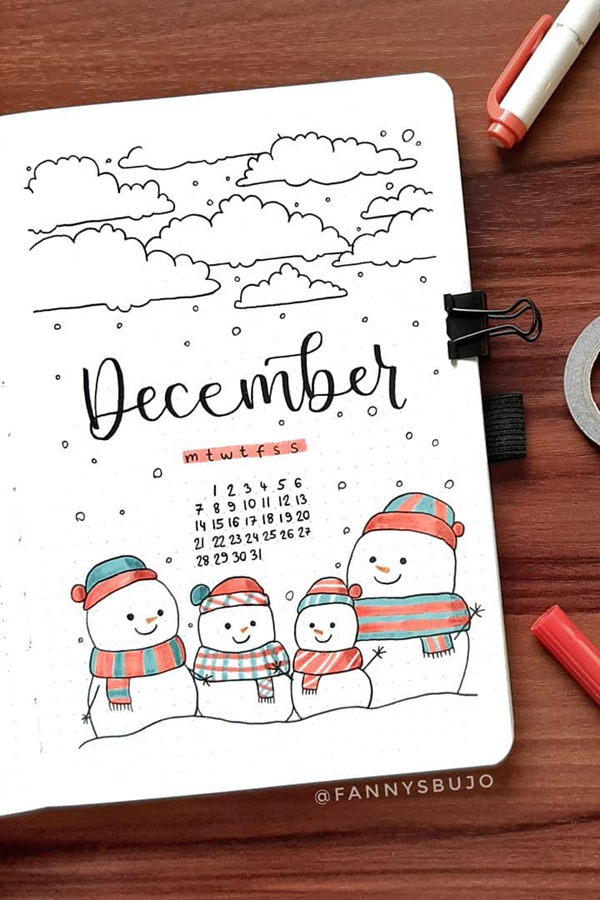 Photo credit: fannysbujo
8. Christmas Tree Holiday Card Bujo Doodle Idea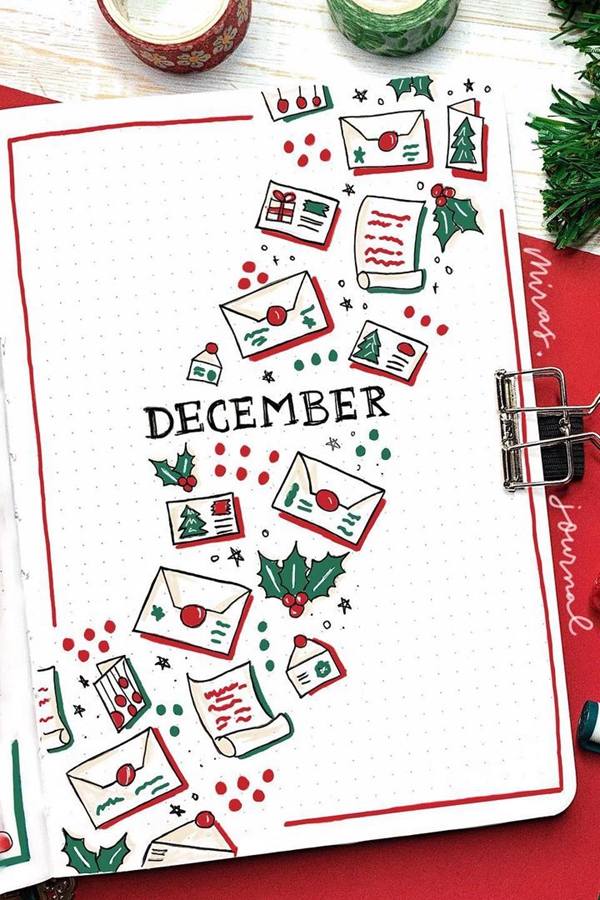 Photo credit: miras.journal
Rather than piles of letters or full mailboxes, these letters jump right off the page. Red and green, of course, work well with this spread idea. If you don't use it this year, save it for your February cover page and add in hearts and candy instead of trees and holly.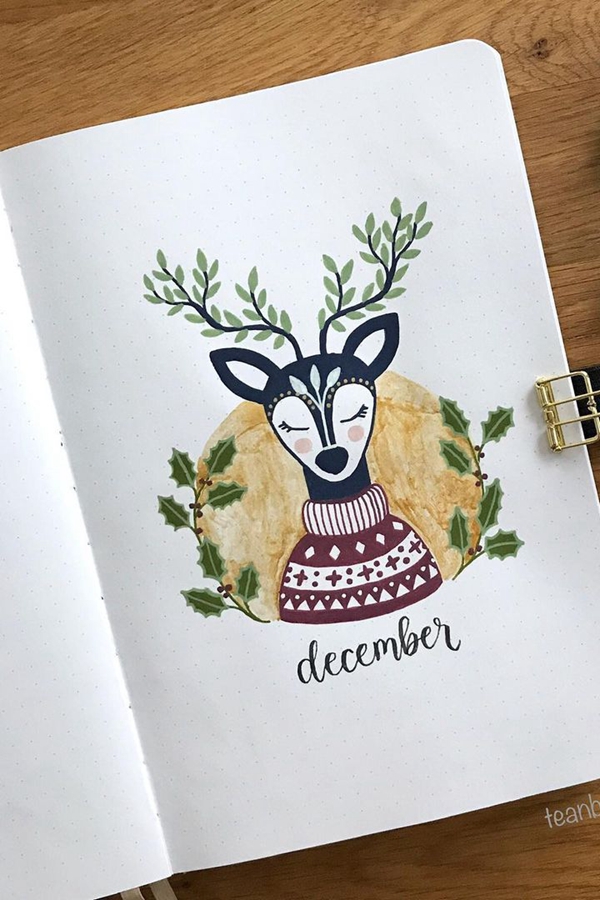 Photo credit: teanbujo
How adorable is this? It's easy to see how this will be a popular December cover page idea. One user even commented, "Aww he's so cute, calm and…well dressed!"
What character would you want on your cover page? Sound off in the comments. I'd love to see a bear wearing a tie.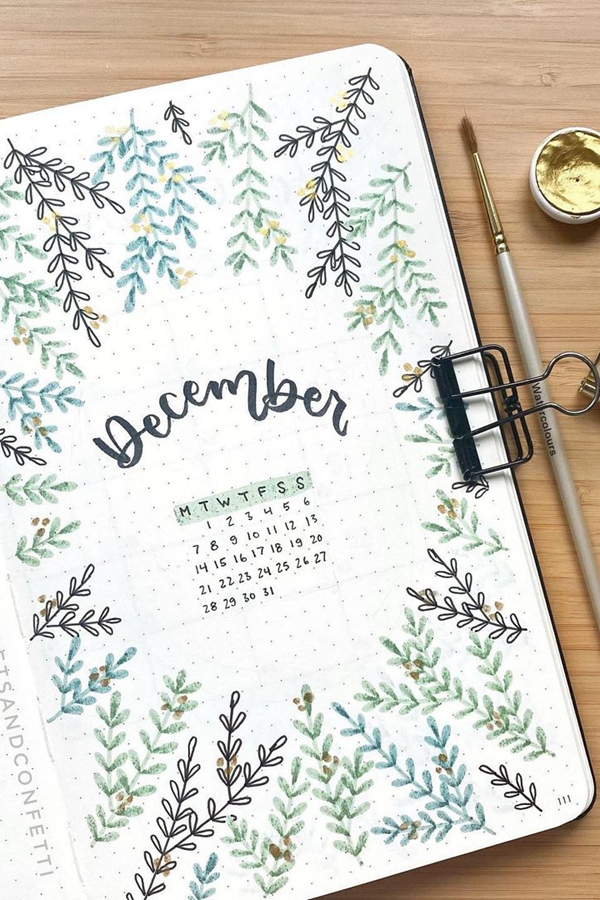 Photo credit: bulletsandconfetti
At first glance, this simple foliage December bujo idea is what you'd expect. Detailed yet simple lines with nice greens. When you tilt the page, however, you see the flecks of gold paint that help the whole cover spread stand out.
Do you like mixing different mediums in your cover pages?
11. Cute Cars and Christmas Trees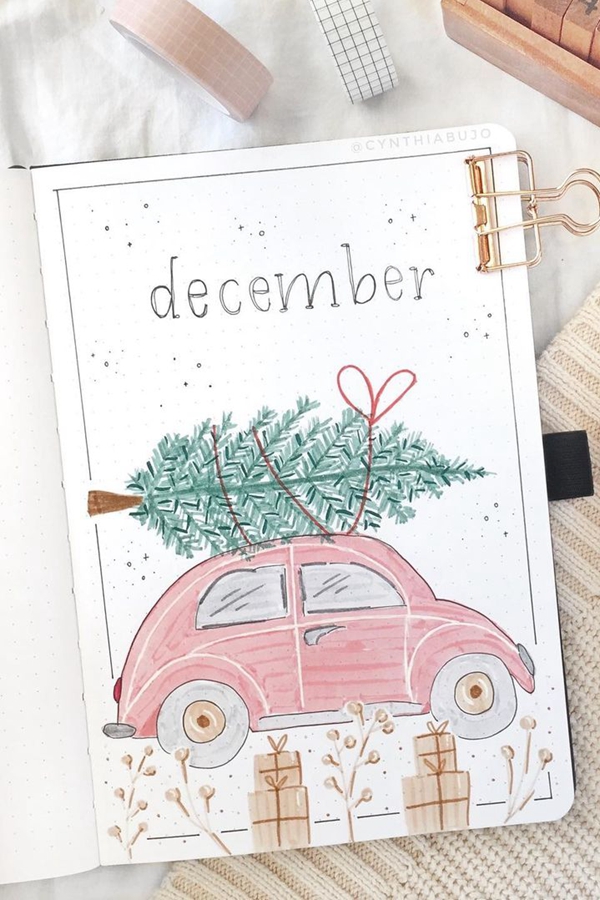 Photo credit: cynthiabujo
Photo credit: notikjournal
Photo credit: somekindwords_
14. Mixed Media Polaroid and Poppies
Photo credit: priyanka.bujo
Shake it like a Polaroid picture… I know, I know, I like references and puns. But hey, you are still reading aren't you? This December cover page idea is gorgeous. The soft pale yellow of the camera outline stands out to me. So many of bujo spreads we see have a harsher look or more bold colors.
15. Traditional Candy Canes and Holly Branch
Photo credit: bujoandcookies
16. Cool-Tone Doodles December Cover Doodle Ideas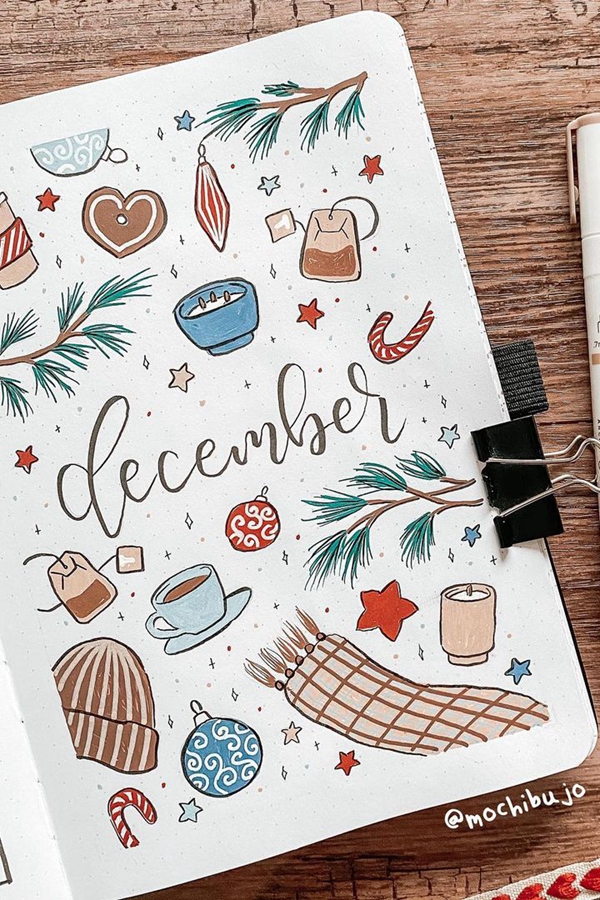 Photo credit: mochibujo
Doodle ideas for bullet journals are one of my favorite things to look up. These doodles use Acrylograph pens from Archer & Olive, one of the beloved bujo notebook shops I know.
17. Mistletoe Watercolor December Whimsicle
Photo credit: dutch_dots
Charming and soft, this painted cover page is one you have to try for yourself.
Photo credit: themonsterofstationery
19. Candy-Striped Monthly Header
Photo credit: _cutie_bujo
20. Go Against Practicality With This Stylized Idea
Photo credit: paperboat_arts
A candle in a snowglobe? But, there is no air? We know. The artist herself said, "I'm so excited to show you my new coverpage ❤️ let's be honest – it doesn't make sense at all."
But does it even matter? I love how this came out, especially the shading.
21. Christmas Ornaments Cover Spread
Photo credit: raesdailypage
22. Among Us Video Game Spread
Photo credit: vanessajournals
"There is an imposter among us!" Okay, okay, it's me. I haven't played this game yet! But the characters are adorable and I can imagine a lot of adorable December spread featuring them.
Photo credit: littleolivebujo
Viola added such great texture to this spread through the combination of light greens, darks, vines, and leaf types. What does your wreath look like at home?
Other holiday wreath ideas include drawing wreaths of roses or ornaments.
24. Fireplace Stockings on a Mantle Cover Page Scene
Photo credit: doodlelou.co
Seeing the DEC for December on the stockings made me smile. Wasn't it a nice detail for the scene, instead of the expected cursive letters?
Photo credit: bulletwithe
26. Simple to Draw Christmas Tree
Photo credit: amizaomar
What I really like about this tree design is that anyone can attempt it without feeling intimidated. We don't need to overcomplicate each design. This one makes an impact in its simplicity.
Photo credit: thizidizi.bujo
II would have never thought of this design! The way the cookies were drawn in helps the cover page come to life with texture and life.
Photo credit: thebrainybujo
29. Green Candy Cane December Ideas
Photo credit: plslars
Photo credit: leeniale
Whether it symbolizes new beginnings, the trip you didn't go on in 2020, or one coming up – a road trip is a perfect idea for your December monthly cover spread. If you were driving this van, where would you go?
Adding funny items or clues to the trip would be a fun addition to the luggage on top of the van.
31. Tiny Calendars and Presents in this Creamsicle Spread
Photo credit: ihggs
Some people use the bujo cover page as a way to separate monthly themes, while others do use it to track a full or partial calendar or future log. This spread has light brown and cream colors with a small calendar for easy reference.
32. Unwrap your Bullet Journal with this Perfect Bujo
Photo credit: amandarachlee
YouTuber Amanda Rach Lee never disappoints! Unwrap December by turning the page on this theme idea. Wasn't that a clever way to use this page? Plus, paper bags are the best bujo hack for those that like adding in materials.
33. Red and Gold Dripping Ornaments
Photo credit: bujo.by.ingrid
Ornaments coming from the top of the page rather than floating in your spread! Which do you prefer? Creating accents to the ornaments with gold and black pen adds intrigue.
34. Spruce Branch Large Wreath
Photo credit: journalbyveronika
We've seen a few smaller wreaths, but this full-page wreath with detailed branches makes it stand out. Veronika describes how it took three hours to create. What is the longest you've spent on a soccer page?
Photo credit: bujoglamour
Instead of a different version of a gingerbread house, here we have a cake with a gingerbread house on top! I love the gumdrop lane and the details of the kitchen. Rather than feeling like a drawing, this cover page feels like a picture that was turned into a cover page.
With 35 ideas to choose from, you have all you need to create your December bullet journal cover page. Don't forget to add your favorites to Pinterest for later! With each month comes new opportunities and you never know when these ideas might spark the latest one.
Did we miss a design you'd like shared? Which cover page is your favorite? Let me know in the comments!