Everyone knows the best part of bullet journaling is the doodles, right? Drawing can be so relaxing and rewarding. Whatever your bujo theme is, we've got you covered with this list. Get ready for all the bujo inspiration and set your intentions for the month of June with one of these sweet summer spreads.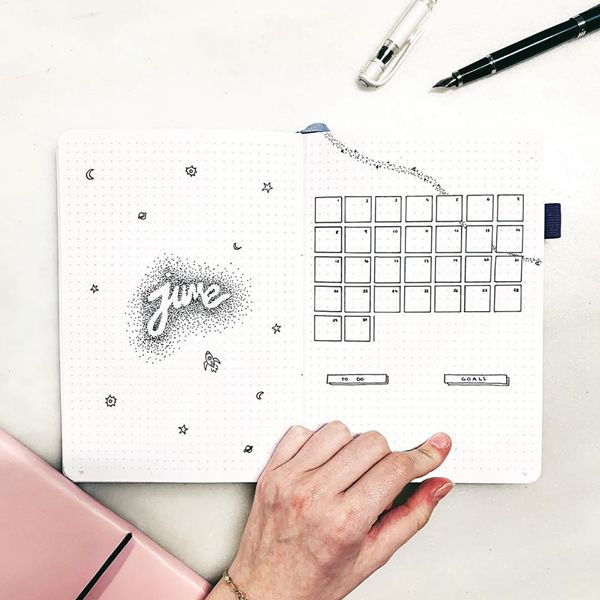 Photo credit: ariadnamarbo
Minimalist bujo designs value substance over style. Put the focus back on your daily schedule with this cute and easy dot art design complete with tiny stars and rocket ships.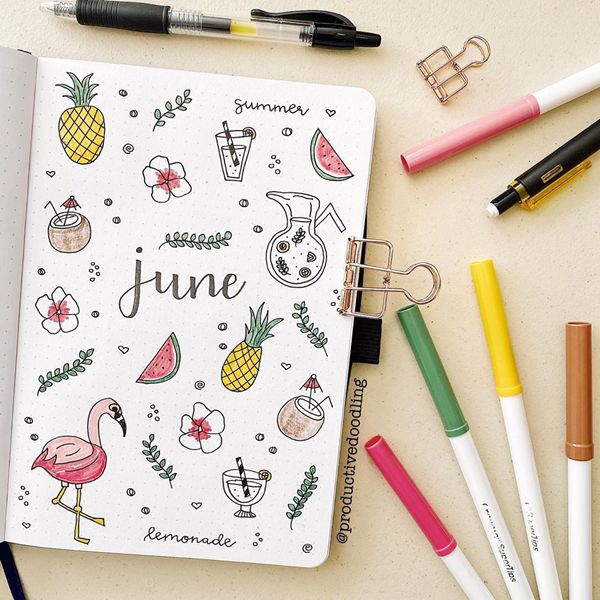 Photo credit: productivedoodling
Start summer early with hot pink flamingos and bright yellow pineapples. Looking at this design makes me really thirsty and I love it.
3. Beach Towels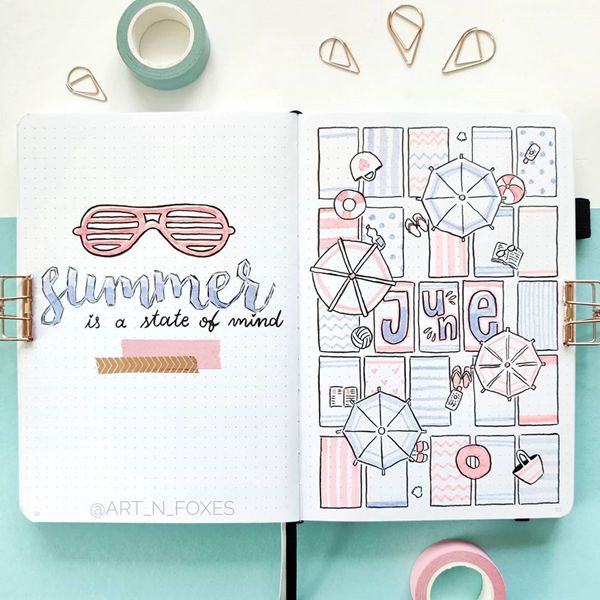 Photo credit: art_n_foxes
This one is way easier than it looks. Just draw a bunch of rectangles and then embellish with doodles of all your beach essentials. I especially love the umbrellas!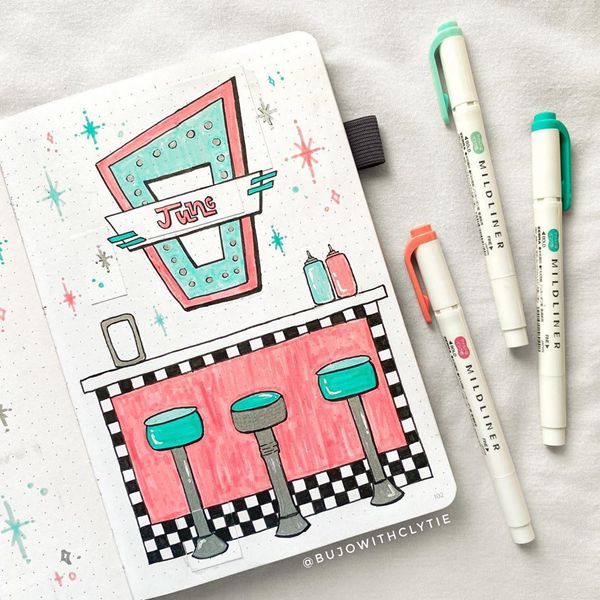 Photo credit: bujowithclytie
Pink and blue is a classic color combo for a reason. Pair them with a bold black and white checkered pattern and a flashy marquee sign for the ultimate throwback spread.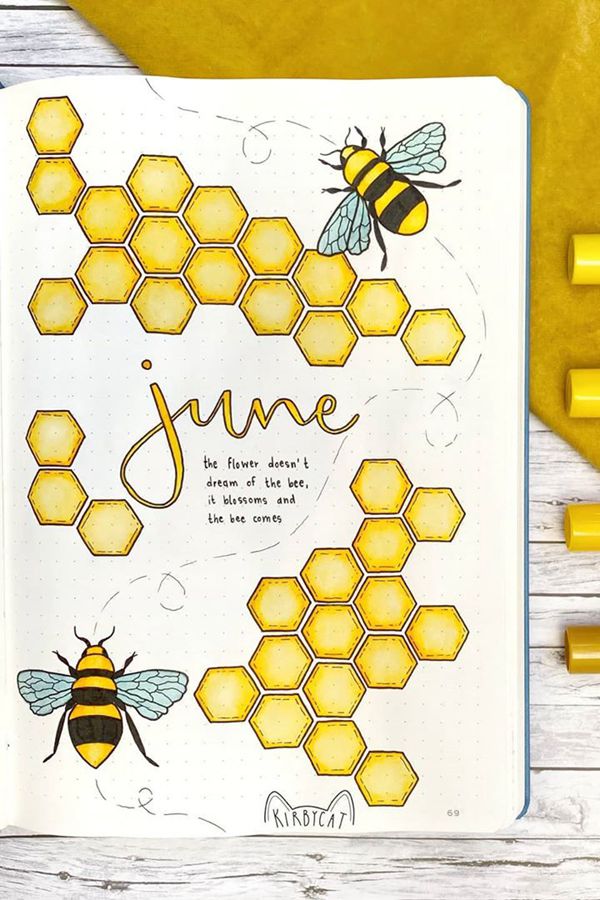 Photo credit: kirbycat.bujo
Warm colors are a hot pick for summer bujo spreads for a reason! Geometric shapes make easy peasy honeycombs and the cute little bee doodles really help pull the spread together.
6. Brunch Goals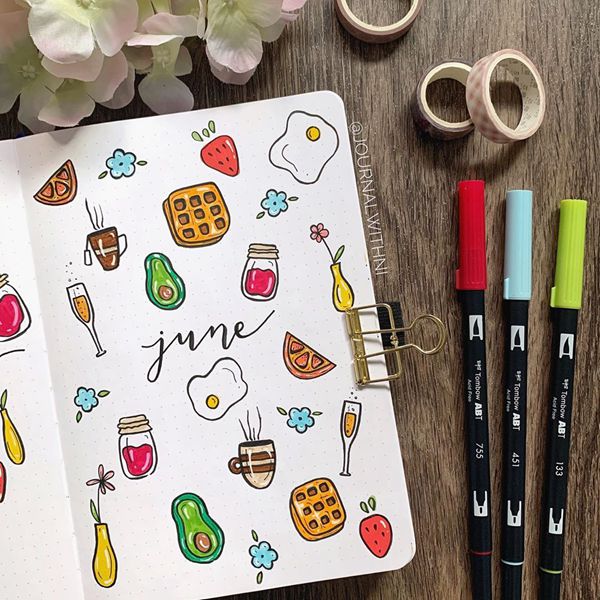 Photo credit: journalwithni
Are y'all missing your favorite brunch spots as much as I am right now? You can daydream about all your future brunch dates with the girls while you doodle all your favorite bites and sips!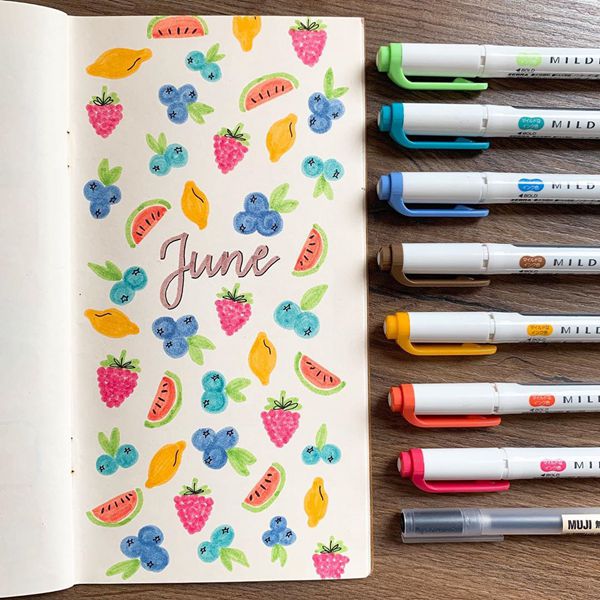 Photo credit: studyandstuffx94
This one is a celebration of all of the yummy fruits that are in season during summer! It makes me think of summer as a kid. No school and lots of yummy fruit! Those were the good old days.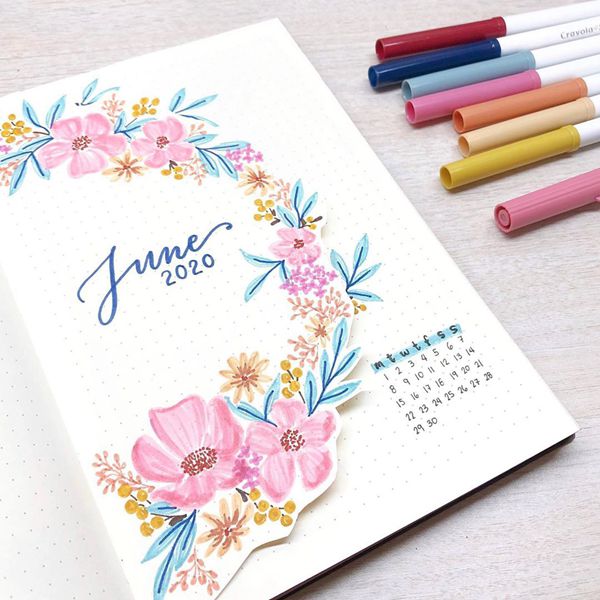 Photo credit: craftdaystudio
Look closer! This designer cut out the edge of their doodle and I absolutely love the little door effect it gives. Plus, the design is absolutely stunning. I spy pink and blue again!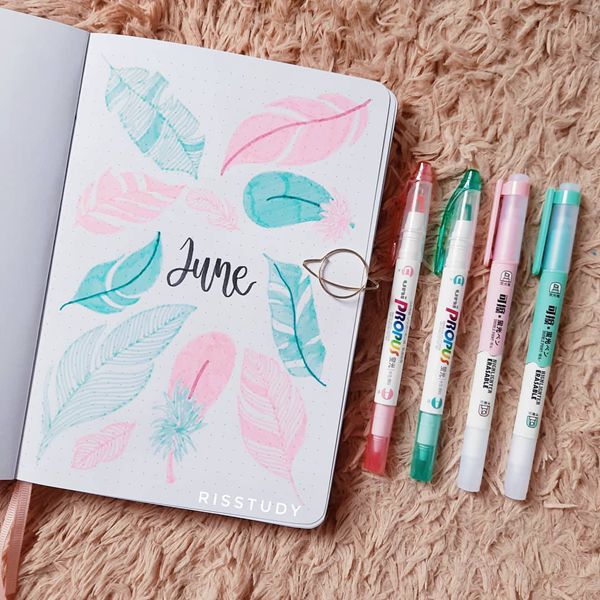 Photo credit: risstudy
Combine the freedom of flying, the beauty of birds and the bright colors of summer and what do you get? This spectacular June bujo spread of course!
10. Stand Tall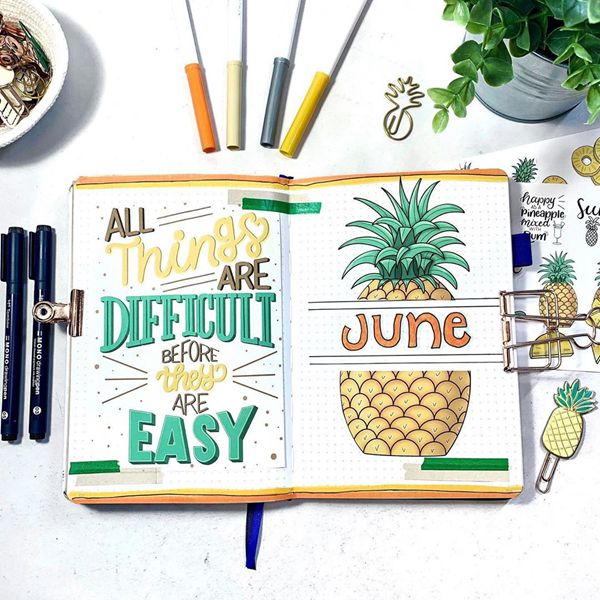 Photo credit: natashamillerletters
I love the idea of reminding yourself of a motto over the course of the month. This quote is seriously motivational and it matches perfectly with the great pineapple illustration!
11. Sea Turtles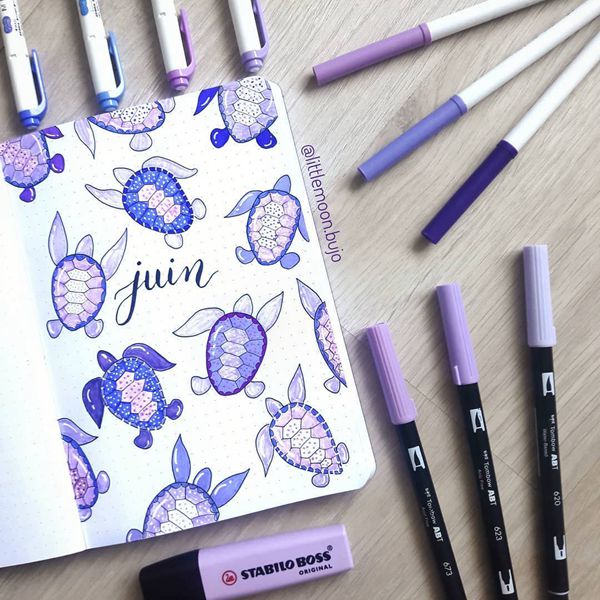 Photo credit: littlemoon.bujo
Slow it down with the cool colors in this sea turtle bujo cover for June. What a great reminder to slow down and enjoy the beauty in life!
12. Tropic Leaves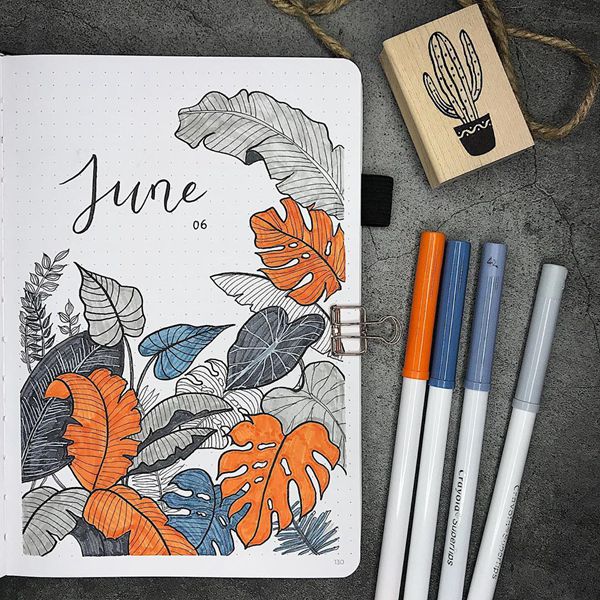 Photo credit: happyyygrape
Photo credit: bujoandbee
I think we're all feeling a little prickly after this heck of year we're having. Embrace it with this cute cactus spread. Green colors signify life and growth.
14. Bubble Tea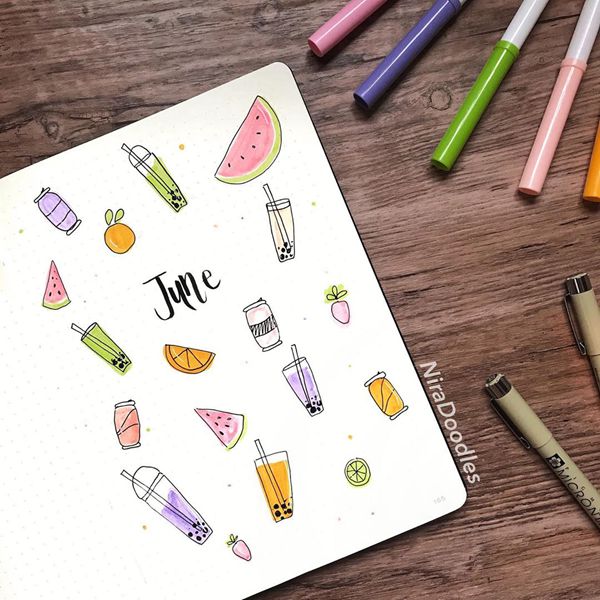 Photo credit: niradoodles
Are you bananas for bubble tea? Celebrate your favorite pick-me-up with this cutesy spread. Does buying myself bubble tea count as self care? I think so!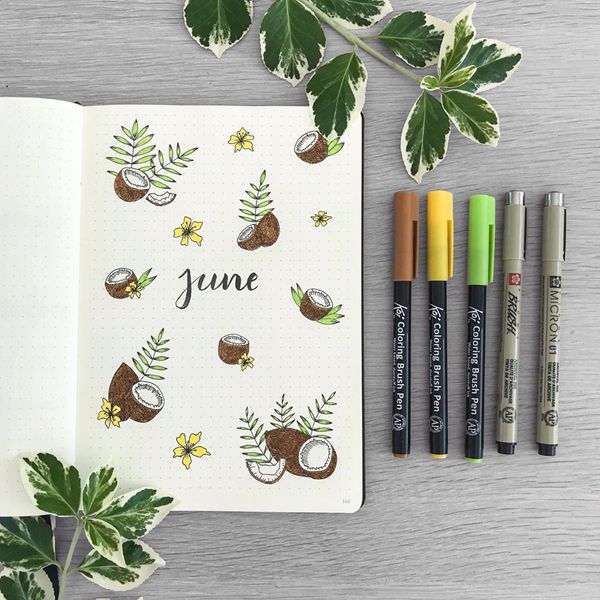 Photo credit: supernovabulletjournal
Have a tropical staycation with this adorable coconut-themed bullet journal spread. Don't forget the hibiscus flowers and palm fronds!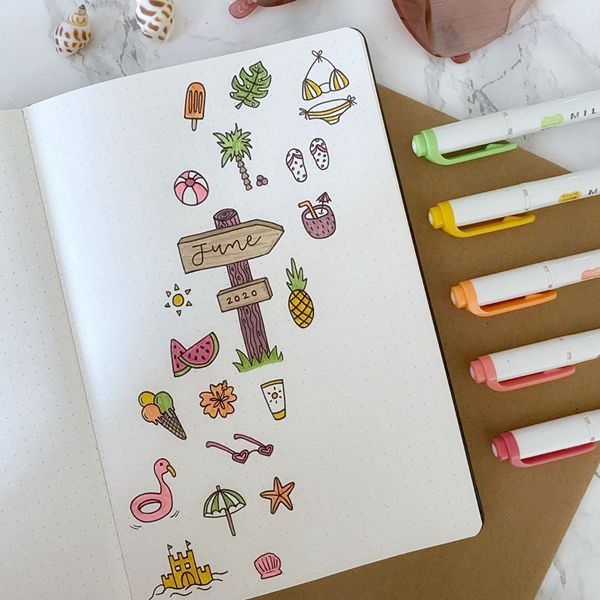 Photo credit: luanas_bujo
Can't decide on just one thing? Combine all your favorite aspects of summer into one fantastic spread complete with summer sips, beach essentials and sweet treats!
17. Under the Sea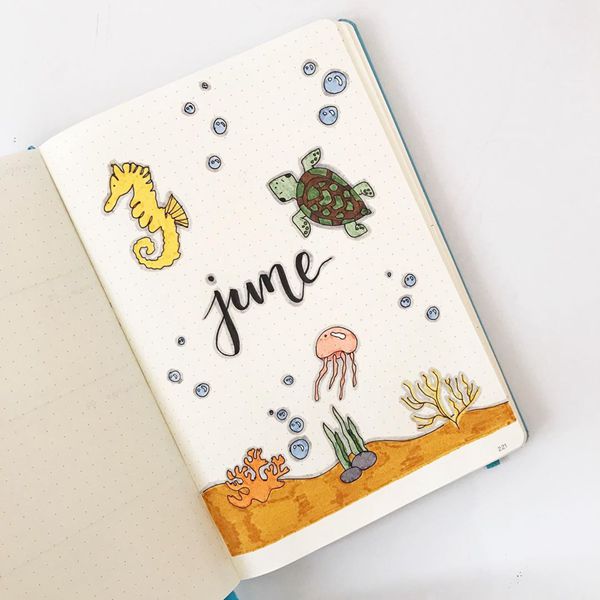 Photo credit: moonjournal_
"Darling it's better, down where it's wetter…" You NEED this bujo spread if you can belt out the rest of those lyrics along with Ariel. Just don't blame me if it gets stuck in your head. 😉
18. Terrariums
Photo credit: jade_journals
So much yes in one spread! This design isn't overly complicated and really maximizes the usage of a limited color palette. Let's get planty!
19. Rainbow Plants
Photo credit: artsy.sparkle
Do you have a green thumb? How about blue or purple? You can incorporate all your favorite colors in these simple plant doodles to brighten up your month!
20. Sweet and Sour
Photo credit: kaylizaa
Wanna know the secret for really making your fruit doodles pop? Add white highlights! It seriously adds so much dimension and realism.
21. Butterflies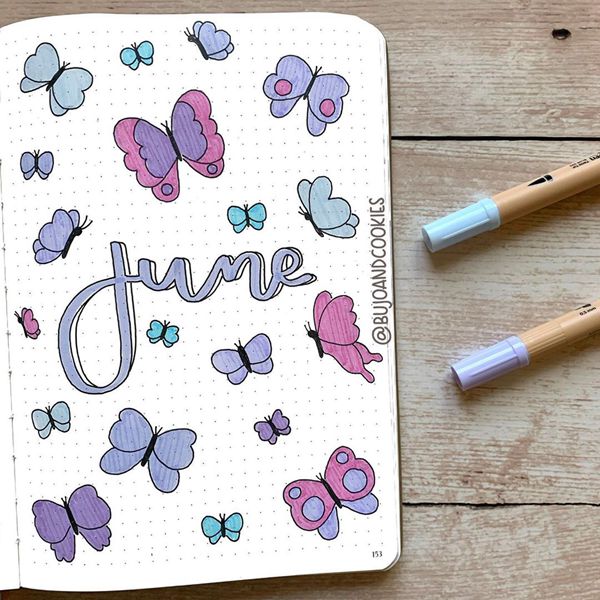 Photo credit: bujoandcookies
Feeling flirty? Tap into your feminine side with pinks and purples. Butterflies are a symbol of change and hope for the future. Send those positive vibes out into the world, girl!
22. Into the Deep
Photo credit: myrthesbujo
Move over markers…hello watercolor! Take notes people because there's a lot of good things here! I love the drawing style, the color scheme, and the design layout.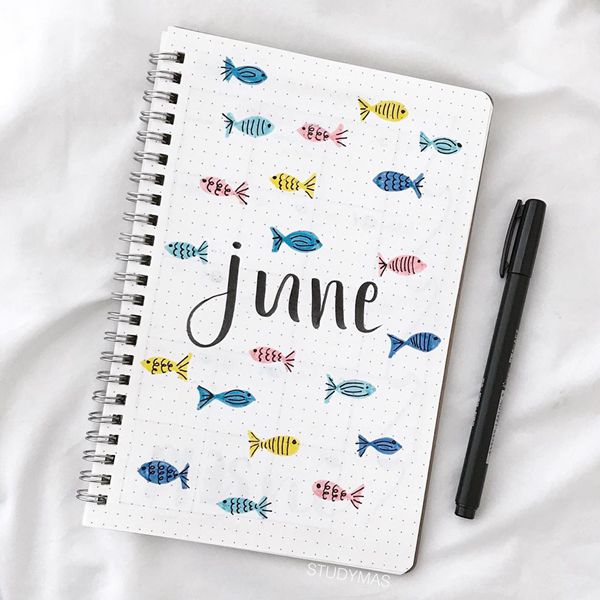 Photo credit: elena.studies
Even total beginners can easily tackle this cute bujo spread. I believe in you! Mix it up with different colors and scale patterns.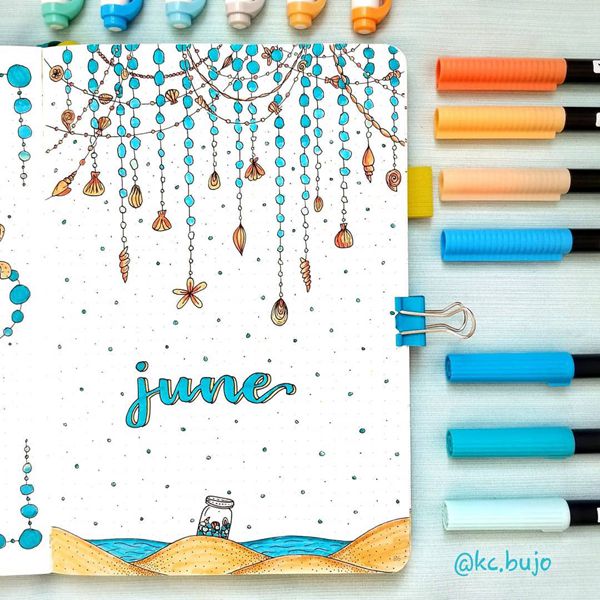 Photo credit: kc.bujo
Blue and orange are perfect for summer and I love how the sea glass curtains almost seem to sparkle. This is definitely a design you can just go crazy with and not have to plan everything out.
Photo credit: jashiicorrin
What does your horoscope hold for June? This bujo spread is giving me all the astrology vibes. Quick, somebody read my tarot cards!
Thanks for reading! I hope you found more inspiration than you're sure what to do with. I am sending you all the good vibes for your best June ever.
Don't pick up that pencil yet… First, make sure you bookmark this page so you can find it later. I am so excited to see what everyone decides to doodle for the month of June. Share your bujo spreads with me in the comments below!