Your feelings are your holy grail and your mood a fraction of a reflection of this. You hold the power in your hands to take charge of your life, habits and wellbeing. It all starts with one simple thing – understanding how you feel, when you feel good, sleepy, sad or ecstatic. Your mood tracker can become your best friend in understanding yourself better, getting rid of procrastination and building a healthier you.
Below you will find some of the most creative and inspiring ideas, that you can use for your own mood tracker.
1. Be Whole as a Wholesome Circle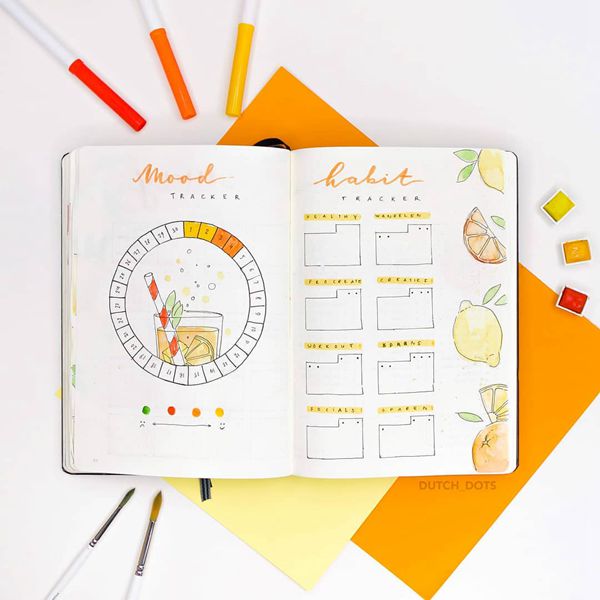 Photo credit: dutch_dots
Colour in the pattern of your colourful life and see what is revealed in one wholesome eternity of each month. Fill in and decorate the middle to your choosing. Make the centre of YOU count.
2. This is Just Way Too Delicious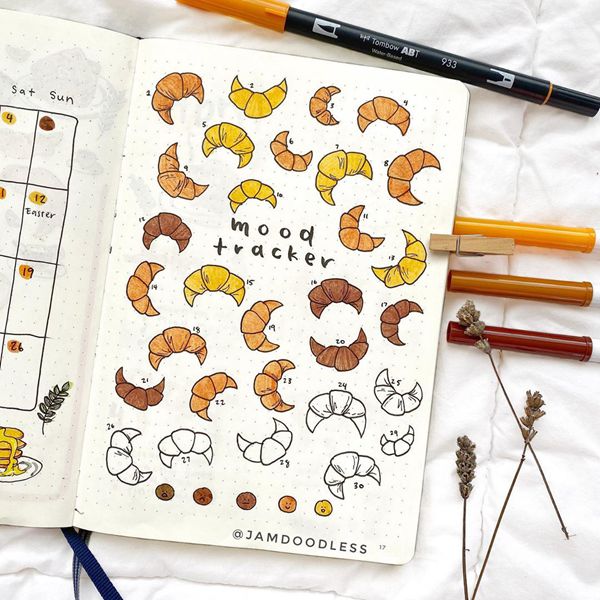 Photo credit: jamdoodless
Mmm…what's your favourite food? A croissant, candy, cherries, strawberries or a piece of cake? Choose your own colours for ripeness, readiness or taste. Are you feeling blueberry-tastic today or sunny yellow, or maybe you are feeling a bit brown and in the need of a piece of chocolate?
Photo credit: bujowithbel
Choose the colours for your planets, stars, galaxies and nature as your path towards the Milky Way and the nocturnal animal that you are. Let your emotions fly and reach the sky. You are one with it all!
4. It Is a Memory of How You Feel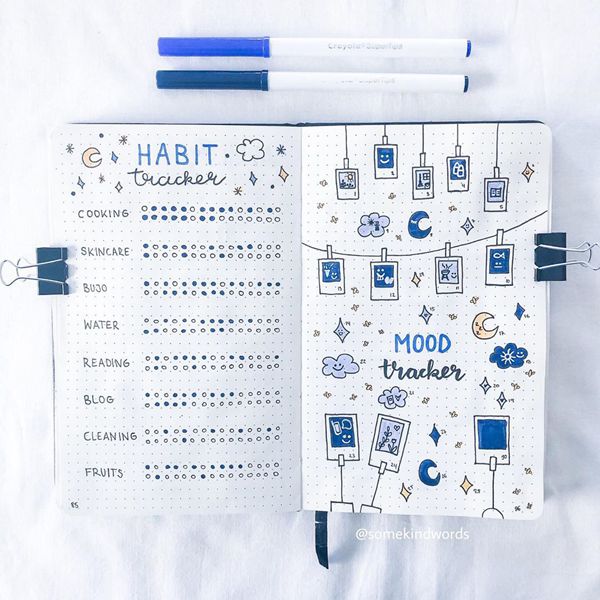 Photo credit: somekindwords_
Colour it in as you go and stick to one colour palette, be it blue, purple or pink. What even better than making a note of a very special day and a feeling that goes with it? Make it into a sort of artistic pictogram, photographic memory or just a clue.
5. I Hope You Are Feeling Peachy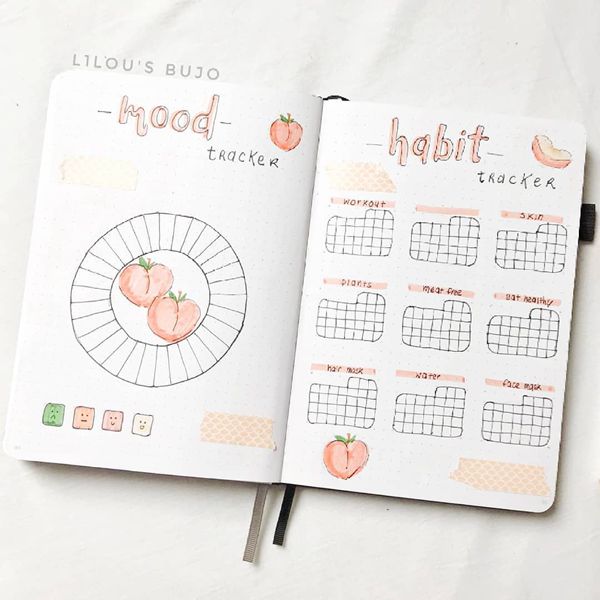 Photo credit: l1lou_bujo
Choose your item of the month and the few colours it represents, to see if you are feeling like a leaf in the wind, faling when you are plucked or juicy sweet pink? Maybe just an angel of pure light?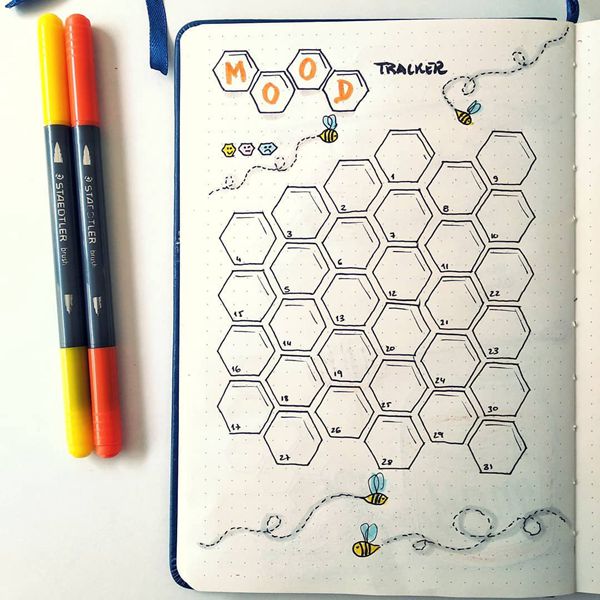 Photo credit: redefineyourself.iv
Buzz…Bee…Honey. What kind of honey are you today? What is your home colour for the day? Follow through the maze and see your world change. Are you living in a sweet honey pot or a blue sour pot?
7. I Am Feeling Zesty This Spring
Photo credit: vetoile1
Lemons can be sour or they can be bitter but some are juicy and sweet, especially if dipped in honey. See how your garden blossoms and bring the sunshine to the pages of your life.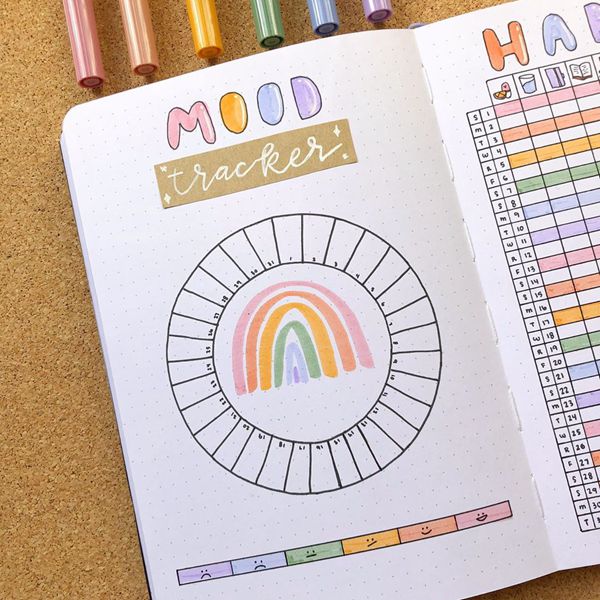 Photo credit: samijournals
The Rolling Stones sang about you and how you colour rainbows everywhere. Sitting on top of one, are you feeling slightly blue or perkish pink? Maybe mellow green or comfortable as an orange gazing in the sun?
9. Slice It Up And Take a Bite
Photo credit: bujo_by_claire
How about splitting your moods into weeks or manageable chunks that can be easy to overview. Might that be your thing? Each juicy section can reveal itself in a pattern, so you can identify the days you are the strongest or when you need to chill.
10. Sing Me a Song And Let That Lass Be I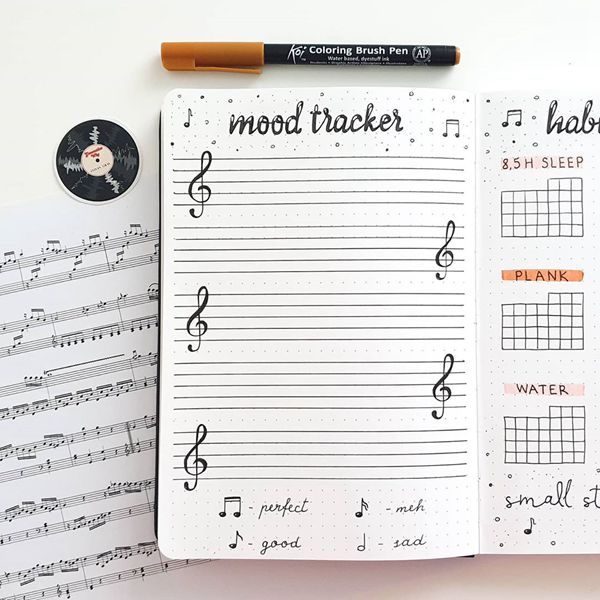 Photo credit: sunshine_journal_
What melody are you playing this month? How about the next and previous months? Imagine if your life, mood and all you have felt and gone through can turn into a masterpiece, a song or just a gibberish of Great Balls of Fire, wouldn't that be wonderful?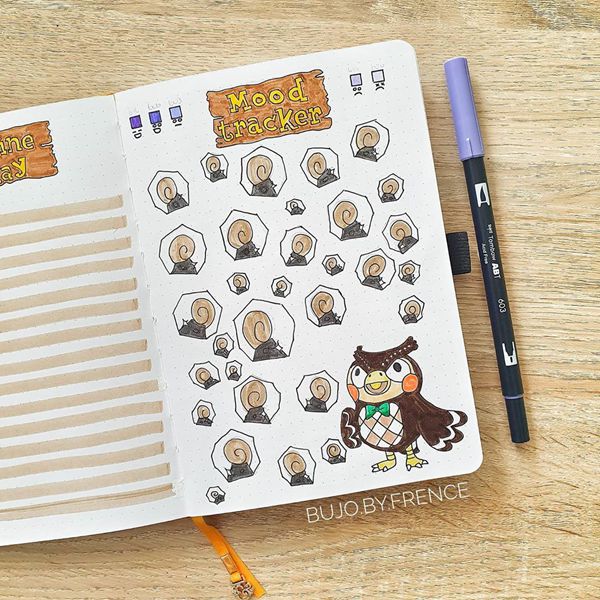 Photo credit: bujo.by.frence
Being the smart owl that you are, you can choose the grandness of your day. Maybe you have had a breakthrough and are feeling over the moon or simply the small things made it count today? Be the wise one and choose your treat.
12. It Is Not Always Flowers And Butterflies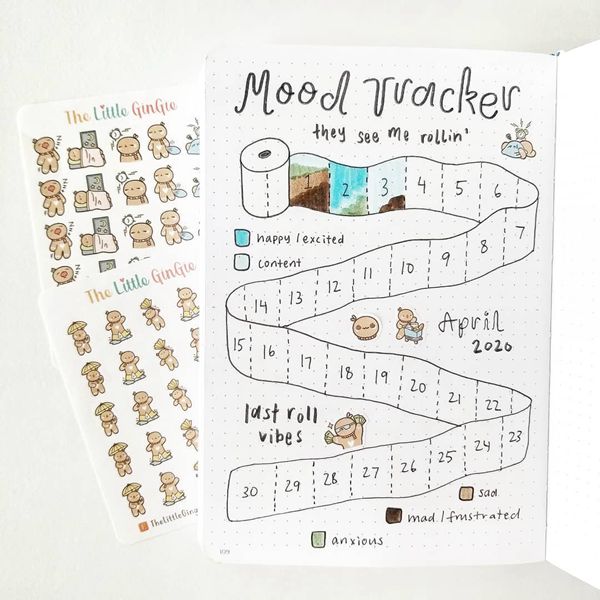 Photo credit: elzdoodles
Going through a rough time in life or maybe you just have a sense of humour, feeling many things in a day and just feel like wiping it away? Why not make the best of it and truly wipe the slate clean of all the trash that's laying around!
Photo credit: kathrynsarahjournals
I feel you! There are days, weeks and even months when all I want to do is cozy up with a book in my lap until the darkness sets and lights come up. Will this time be brightly lit, darker dusk or random strings of magical complexity?
14. Snap Snap Snap And Say Cheese
Photo credit: dotted.pages
Polaroid a picture – say cheese, press click, wait for the print, set aside to develop and watch what the picture tells. People say a picture tells a million words and so do your emotions, states of being and your mood.
15. Keith Haring Said – Put Your Dance Moves On
Photo credit: bujo.badger
Get creative with art and track your mood like a creative artist, be it Haring, Picasso, Dali or Rothko. Colour the dancer in you. Colour the sports person in you. Colour the artist in you and jazz up your Bujo pages.
16. Meditate On Crystals This Month
Photo credit: sofieshandlettering
Being highly sensitive you feel the energies around you, the love a rose quartz brings or serenity by purple amethyst. Perhaps slightly more emotional today and need that aquamarine around you. Oh, these precious gems, how they sparkle in the world!
17. Feeling Slightly Perplexed
Photo credit: themonsterofstationery
You know that feeling – you wake up after a good night sleep or a terrifying nightmare that starts your day but the day is not yet made. You receive a gift or a kind gesture and finish the day on a different note then it started. How can one day fit only one mood, you wonder.
Photo credit: thejournaltea
Loving all kinds of plants, flowers, trees and colours of the nature? Today you can become as sweet as the maple tree, sea green as weepy willow, fire red as rowan or as festive as a Christmas spruce. Choose your nature of being.
19. Being an 80's Child Is Awesome
Photo credit: mandybujos
Do you remember the Snake chasing and wiggling its tail on your Nokia? Or maybe Pacman always being hungry? How about playing Tetris on your TV or that huge computer, that is still stored in your parent's garage?
20. Art Is My Calling And In My Mind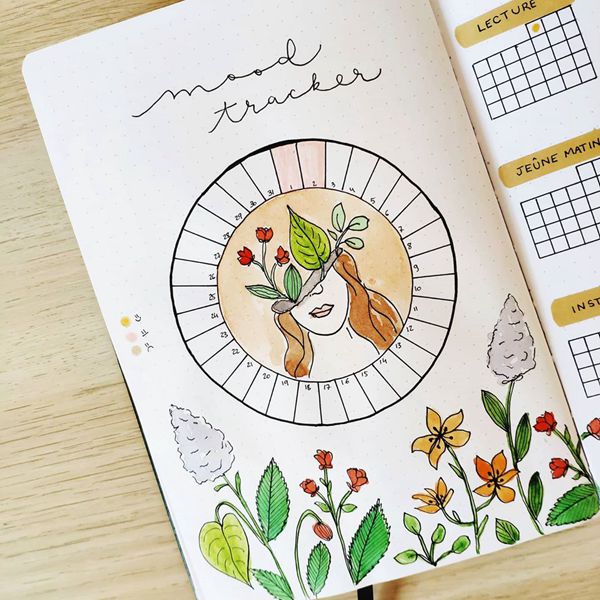 Photo credit: petitesfeuilles
This is where you shine, grow, flourish and thrive. Bring a positive reminder of who you truly are for each day that you live and set your aim to remember the good, the beautiful and the precious even on those harder days.
21. Raindrops Keep Falling On My Head
Photo credit: littleolivebujo
Who said that rain is white, blue or even transparent? I see only a rainbow of colours and when it rains it colours the whole world around me. I notice the worms wiggling their way across my path, snails stretching their antennas and so much more! Just ask me.
22. It Is a Crazy World Out There
Photo credit: journalfilled_by_wendy
Feeling like I'm in pieces, screws and bolts have fallen out, springs keep bouncing all around me and a key to keep my heart together in one piece. Love is a mystery!
23. They Said Run But I Swam Away
Photo credit: fatinbulletjournal
Mermaids tails have so many tales to tell. So, here is mine and listen carefully, as this one you will not have heard before. I am not Ariel, oh, but how I wish to be her on some days. To swim and swirl and become friend with the sea creatures all around.
24. Getting Hand Dirty or Gardening
Photo credit: journalwithni
There was a pot, that I washed and bathed, scrubbed it clean and filled it with water. Then I carefully chose the greens and blossoms of the day's events, and one by one set them in. Decorated, organized and sat down to marvel at a good day's job.
25. Power Puff Girl to The Rescue
Photo credit: bujospreadx
Each day she takes a step to be on her way towards the end, and then she takes a look back to see a rainbow road she has left behind. Rainbow of emotions, rainbow of adventures and rainbow of herself.
Your mood and your emotions are the most precious treasures you have. They can tell tales, keep secrets, show your true being and track not just your every day but the most intimate part of your essence. You have the power to be, succumb, learn and thrive but first, you have to understand why. May you grow into a beautiful being!