Better late than never! If you haven't caught the bullet journal bug yet then you're about to. It's a great way to express yourself and organize your thoughts. You can track your schedule, your to-do list, your habits, and more!
It all starts with a great design. You're choosing more than just the theme for your calendar – you're setting the tone for an amazing month!
1. Koi Fish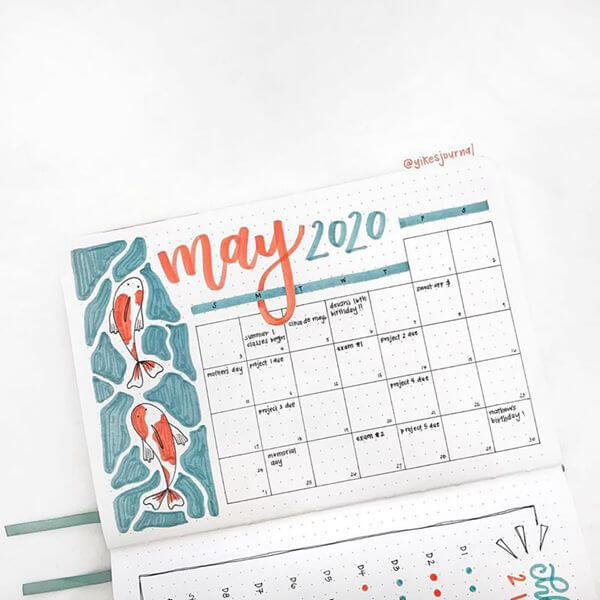 Photo credit: yikesjournal
This design uses the power of complementary colors. The orange and white fish really pop against the blue water background. My favorite part of this design is the direction they went with the water. It's totally different and yet really simple and fun!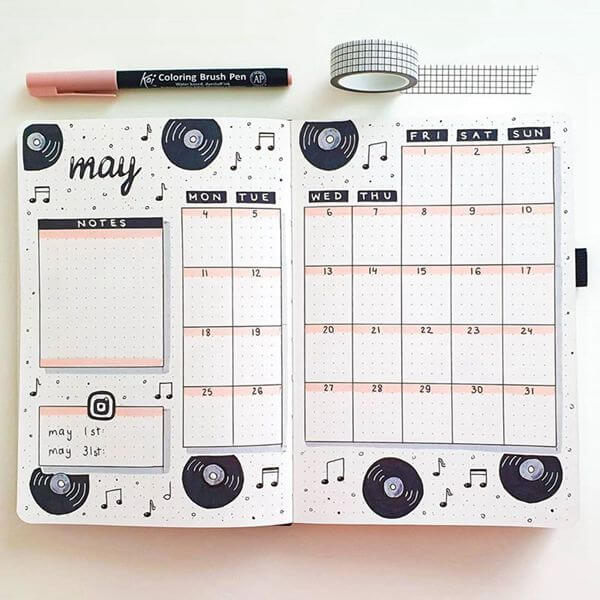 Photo credit: sunshine_journal_
If you always have music playing in the background (or just a song constantly stuck in your head) then this one is for you! I'm really loving the way they did the records. Talk about a throwback!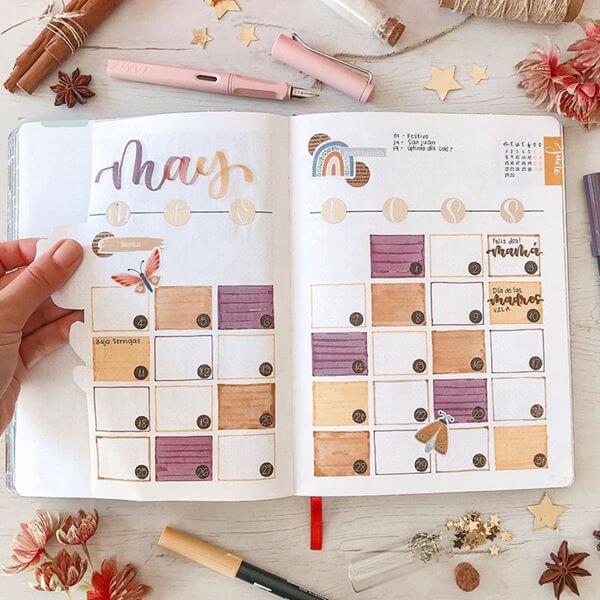 Photo credit: lettering_and_me
Can I petition to make peach and purple the official colors of spring? I am absolutely in love with this color palette and the cute little bug doodles really add to the overall effect.
4. Love Potion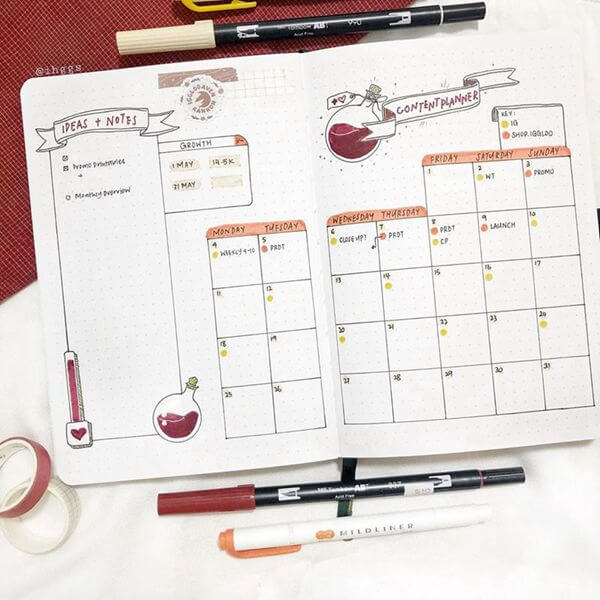 Photo credit: ihggs
May is the perfect time to turn up the heat on your passions. New business venture? New hobby? New romantic interest? Whatever you've had your eye on lately, go for it!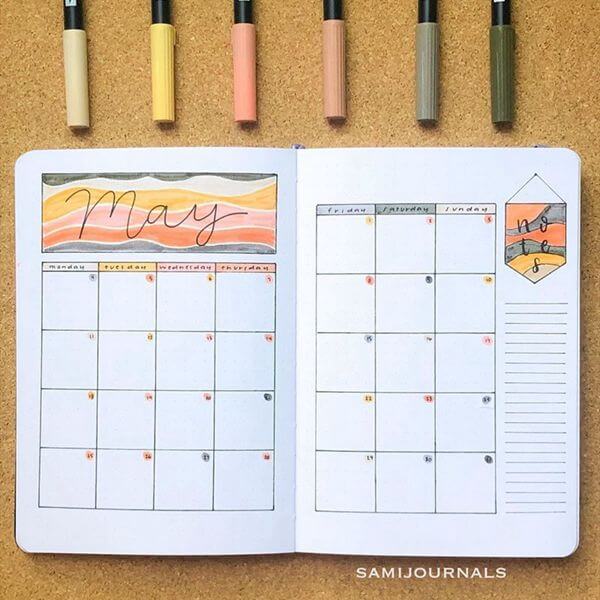 Photo credit: samijournals
You don't have to be artistically inclined to pull this page off. Keep it simple and stunning with these amazing colors and some cool wavy lines.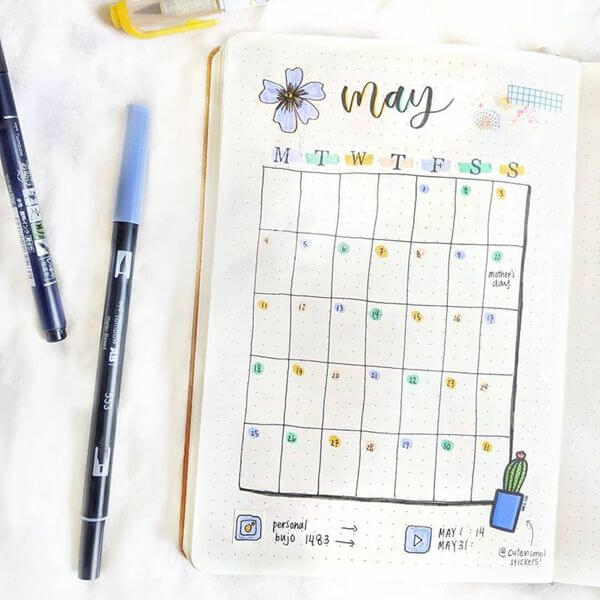 Photo credit: beatricejournals
You know what they say: April showers bring May flowers. So what May bujo would be complete without a little floral action? I love how effortlessly you can add color to this design with bright blue and yellow highlighter.
7. Lemons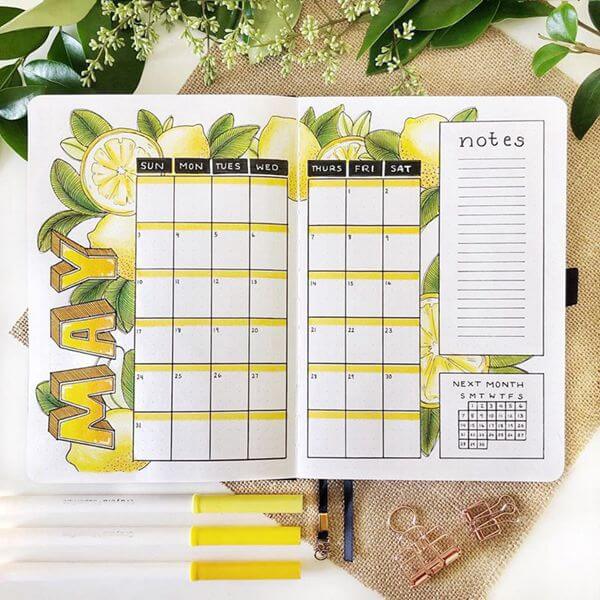 Photo credit: vetoile1
When life gives you lemons, make lemonade. (Or limoncello!) I am loving this 2-page bujo spread. Take the concept and color scheme and just run with it. Make it however detailed you want!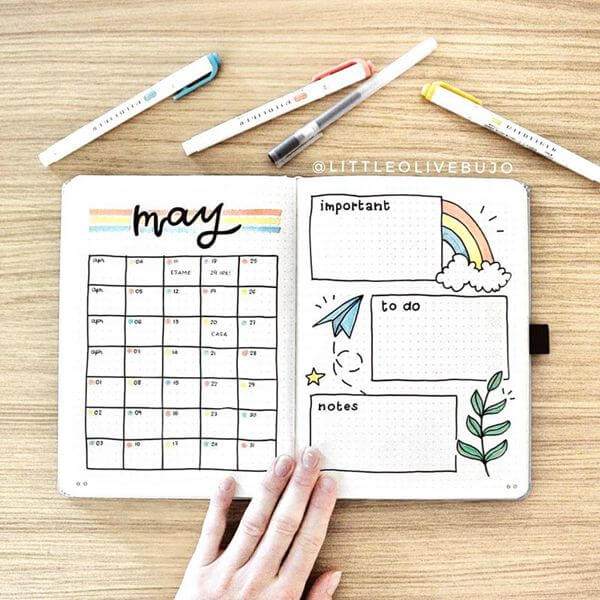 Photo credit: littleolivebujo
Rainbows are a symbol of hope. Things are going to get better! I love this bright, youthful concept for May. We are just around the corner from our endless potential.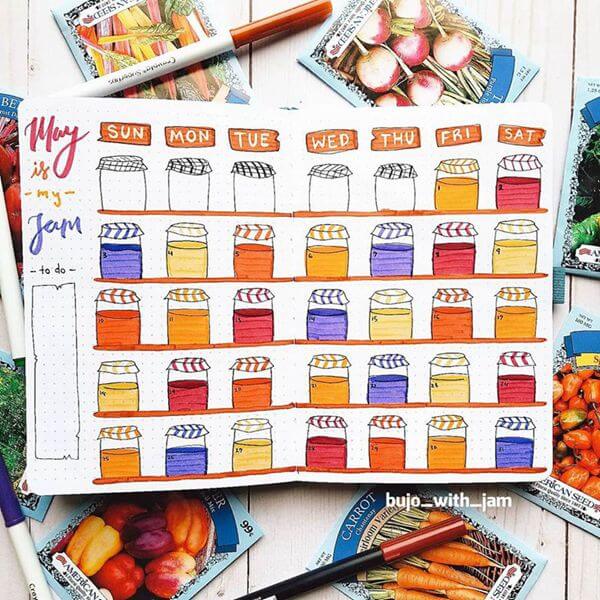 Photo credit: bujo_with_jam
Calling all pun fans. I love this positive outlook play on words! And who doesn't love jam?! Mmmmm. I can hear the farmer's market calling my name. Better yet, if you have a green thumb, now is a great time to plant so you can make homemade jam later. <3
10. Puzzled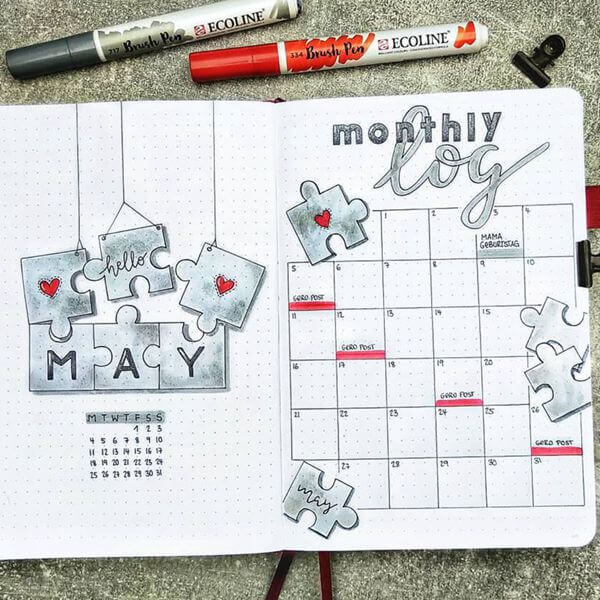 Photo credit: apfelzimtmuffin_
I know I'm not the only one who's gotten back into puzzles lately. They are such a relaxing way to pass the time indoors. Give your sched that same relaxed vibe with this understated puzzle piece spread.
11. Citrus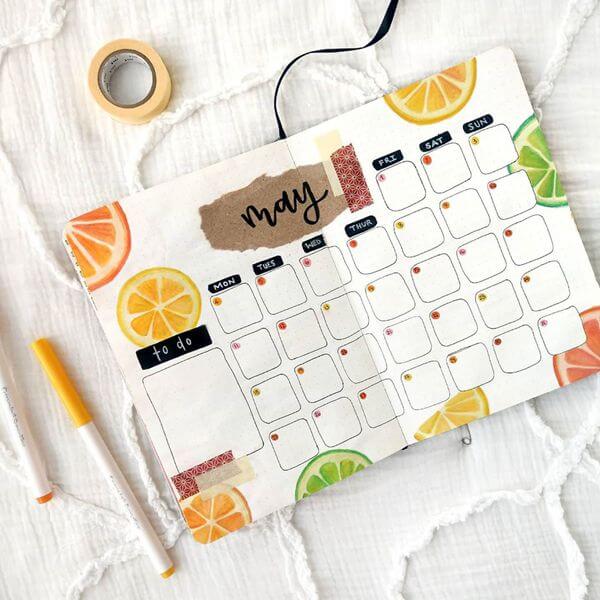 Photo credit: palerlines
Pucker up for sour citrus and bright yellow and green colors! This bright bujo is really going to help you squeeze the day! (Sorry, I just had to!)
12. Flower Sketches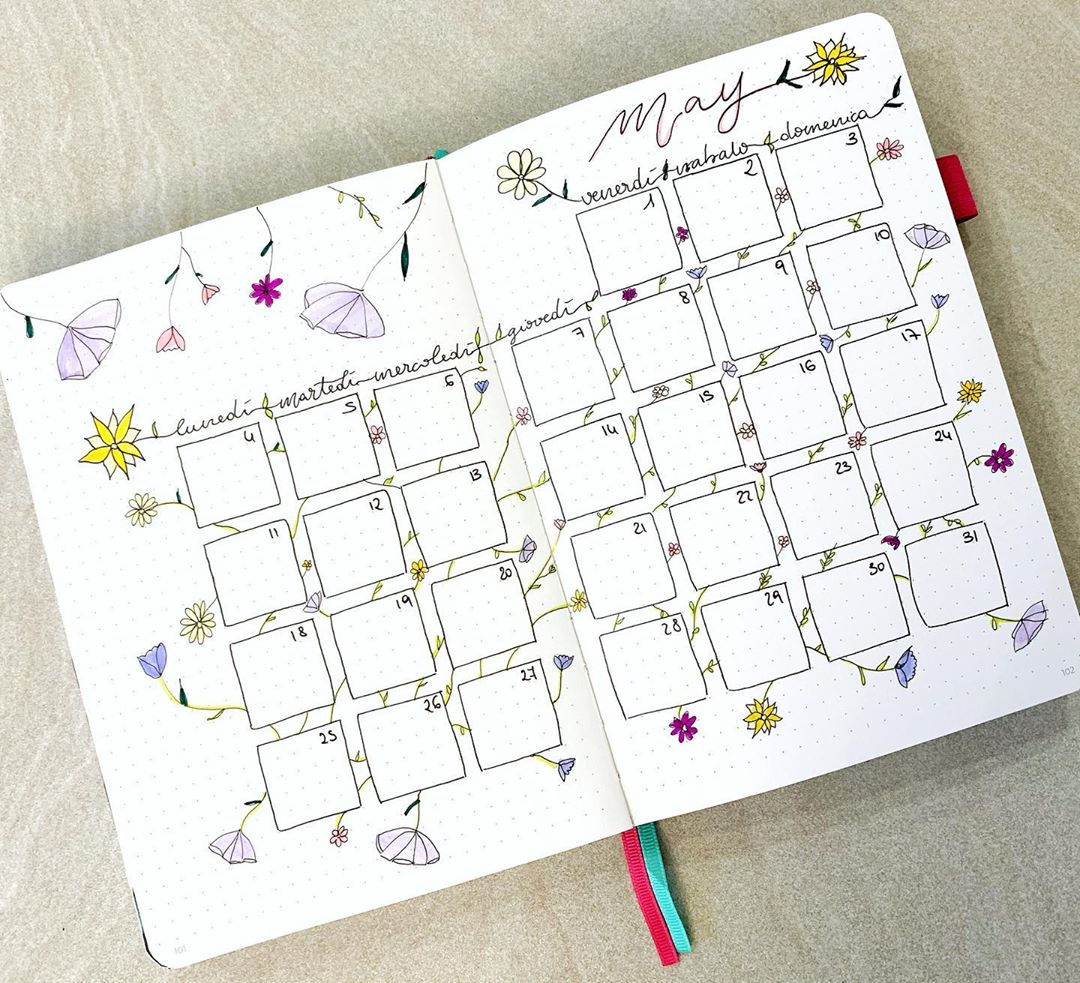 Photo credit: bujotips_beal
I love the way this design combines cursive and flower vines. This calendar spread could easily be adapted to match your individual color scheme and the doodles don't look too tricky!
13. Pretty in Pink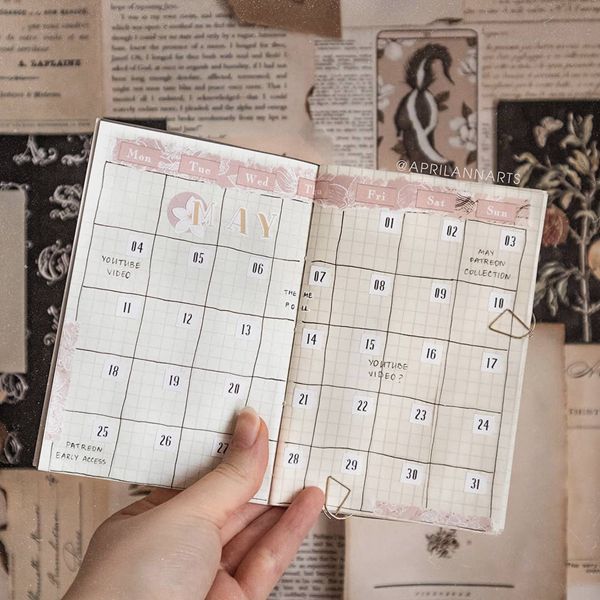 Photo credit: aprilannarts
Embrace your feminine side with pastel pink and flowers. This design is so clean and simple. It really puts the focus back on you.
14. String Lights
Photo credit: paperkatco
Light up your life with cute little fairy lights and a few polaroid pictures. This minimal design is minimum effort with maximum effect. So clean and cute!
15. Vertical Lines
Photo credit: createwithcarolina
Fill up your space with this extra tall calendar design. Vertical days leave more room for daily to-do lists. Also, consider this permission to color outside the lines and look fabulous doing it!
16. Jungle Tiger
Photo credit: ashleyecreates
Getting your life in order doesn't have to be so serious! Tap into your youthful creativity with cute animal doodles and fun fronds. Bonus points if you incorporate the habit tracker! What a great idea!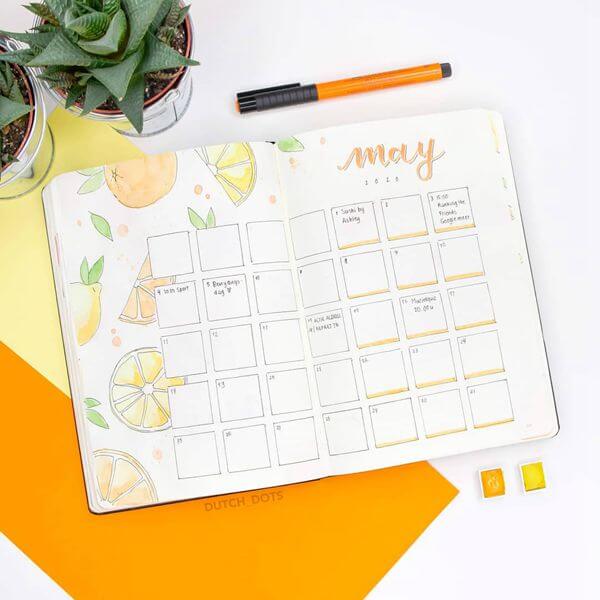 Photo credit: dutch_dots
Simple circles and semicircles are transformed into mouth-watering fruit with watercolors in this stunning design. Get outside your comfort zone and try something new!
18. Sunflowers
Photo credit: bulletjournalsbycharl
Doodling sunflowers is so relaxing and mindless. I especially love this design for May because all the sunshine on this page is giving me some serious summer vibes.
19. 70s Vibes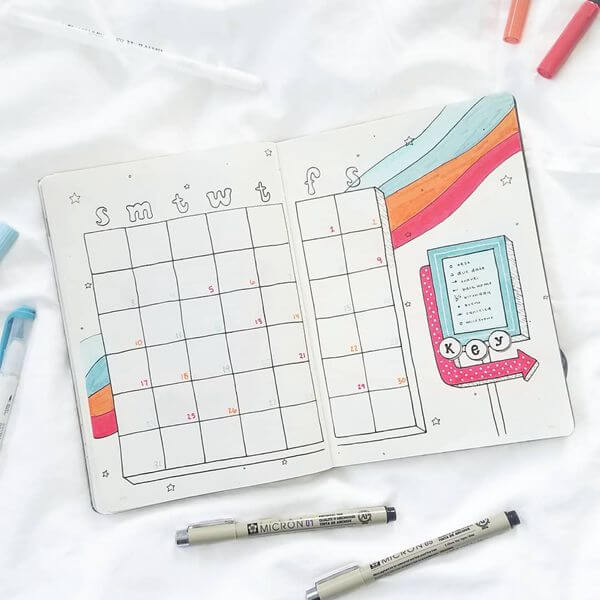 Photo credit: the.study.journal
There's just something about this spread that makes me think of the 70s. Maybe it's the psychadelic colors. Is it just me or does that totally look like a sign for a drive-in movie theater?
20. Hot Air Balloons
Photo credit: littlemoon.bujo
Turn up the heat with warm tones while we wait for that sweet summer sunshine. I love all the different ways you can draw a hot air balloon. Which do you like better – stripes, chevrons or squares?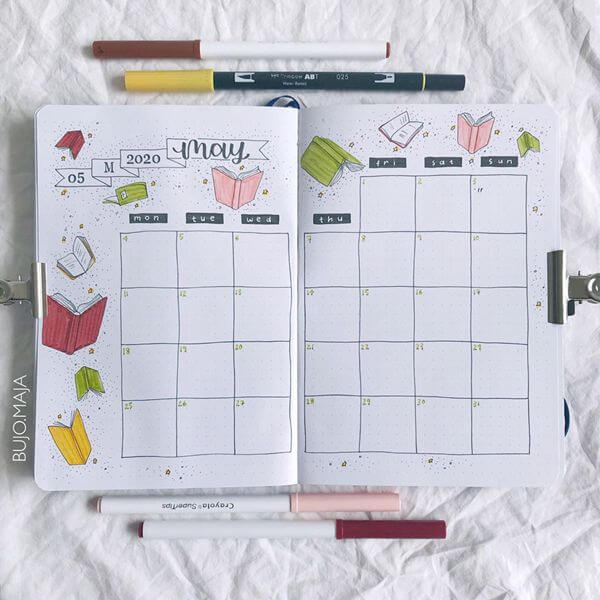 Photo credit: bujo.maja
Reading is the ultimate stress-free pastime. Such a great way to recharge during this crazy time we're living through! If you are a total book-lover then you NEED to make this bibliophile calendar spread!
Photo credit: papieru_
Brown doesn't have to be boring. Jazz it up with washi tape and pink accents. This clean minimalist spread could fit in with any bujo theme!
23. Starry Night
Photo credit: hayleys.bujo
This bujo spread is totally doable. I love the collage vibes I'm getting from the glued on cutouts. Reminds me of making vision boards with my family on New Years Eve!
24. You've Got Mail
Photo credit: thoughtswithabrush
Turn this month into one long love letter to yourself. I love how this calendar spread incorporates a lot of the designer's favorite things like video games and cassette tapes. What are some of your favorite things?
Photo credit: haleys_journal
Picnic in the park with bright flowers, buzzy bees, fresh strawberries, and your favorite bag. Don't forget the picnic blanket in signature gingham! I love all the different little doodles on this one.
Have you started sketching yet? Quick grab a pen and some paper while inspiration strikes. While you're at it, order some cute washi tape and sticky notes. Now you're a bujo pro! Which design is your favorite? Let me know in the comments below and share this page with your friends.